Prices for 2019 in Euro per day
Booking Conditions: A 30% non refundable deposit is required at the time of booking. The rest of the amount is to be settled 6 weeks prior to arrival.
Payment Method: Bank transfer in Euro.
Cancellation Policy: More than 6 weeks prior to arrival date, the deposit is forfeited, 6 weeks and less, the entire rent is forfeited
Romantic Mountain House in Zagoria
Mountain house in the heart of nature
Trekking, Rafting, Horse-Riding, Untouched Nature
Due to it's rather unknown but exceptionally beautiful setting; please allow me to describe the location first.
The Zagori Region of Epirus stretches over more than 1000 sq. km with altitudes varying between 500 and 2,500 meters. Deep valleys, gorges, steep mountain slopes, streams, rivers, mountain lakes, forests and meadows alternate in a landscape of wild and unspoiled. The area is also famous for it's arched stone bridges (approximately 60 of them in this area alone!), built between the 18th and 19th century.
To visit this wonderful area, you are likely to fly to Preveza or, if you come by ferry from Italy, Igoumenitsa. From there, it takes approximately 2 hours to drive to the village of Koukouli, which is situated at the southern end of the Vikos Gorge, at an altitude of 900m. Due to its small width-to-depth ratio, Vikos Gorge is the deepest in the world (according to the Guinness Book of World Records). It is 1650m deep, measures 980m at its widest point and is 20 km long. Its rare flora and fauna species are protected by the Vikos-Aoös National Park System. Koukouli is identified as a "traditional settlement" by the Archaeological Society, which means that strict rules apply to its architecture and cars are not permitted inside the town. There are two taverns and one café in Koukoúli, which is strategically located in the middle of the Zagorian area, allowing easy access to all the main trekking paths and places of interest.
There are over 40 trekking paths in the area, totalling up to 47 hours and covering a distance of 94 km, depending on your mood and fitness level.
Maps of trekking paths of various levels of difficulty together with a portable GPS can be found in the house. Other activities you might enjoy include mountain biking (six bikes available), horse riding, climbing and rappelling, archery, canyoning, and various types of rafting and kayaking (highly recommended).
Approved independent service providers are at your disposal for these activities and can also provide you with a trekking guide. Contact information and rates are found at the house.
Apart from the trekking activities, it is worth devoting one day to visiting the city of Ioannina, a 35-km drive from Koukouli, famous for its lake and the old city inside the castle. South of Ioannina, at a distance of 20 km, lies the impressive ancient theater of Dodoni (or Dodona), built during the 3rd century BC. With 17,000 seats, it is one of the largest and best preserved ancient Greek theaters. Continuing south for another 50 km from Dodoni, you will come to the Roman city of Nicopolis, founded in 31 BC by Octavian to celebrate his victory over Anthony and Cleopatra at Actium.
Should you decide to spend more time sightseeing, you can also visit the ancient city of Kassiopi, the Nekromanteion (Oracle of the Dead), where the ancient Greeks communicated with their dead ancestors, and the castle of Ali Pasha in Parga.
The Area - Zagori - Epirus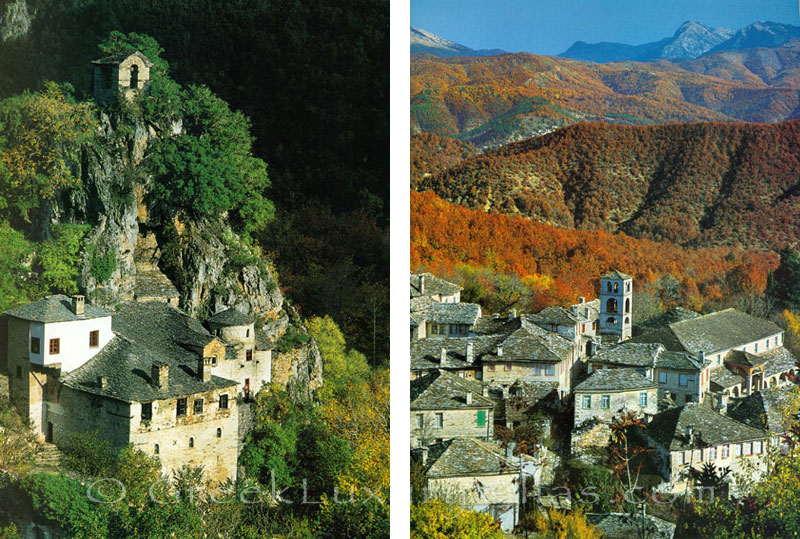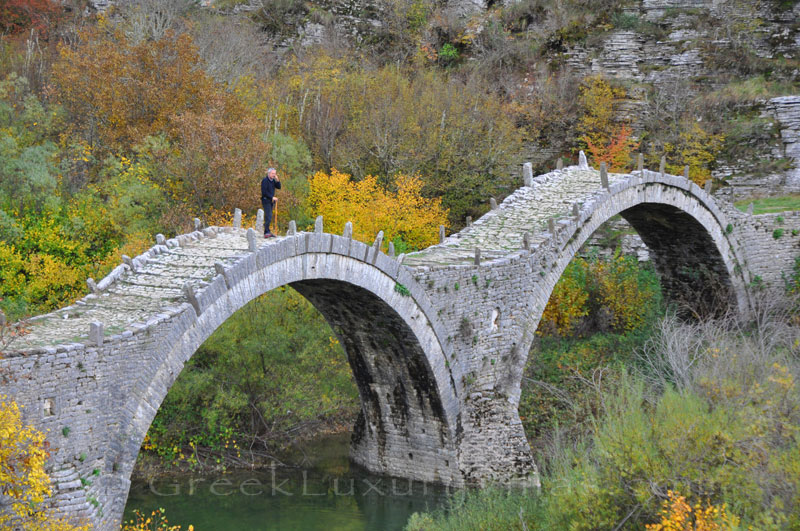 The House - 3 Bedrooms, 2 Bathrooms - Koukouli, Zagori, Epirus, Greece
A contemporary stone house of 130sqm, it was built according to the traditional Zagorian architectural style and completed in 2002. The dominant architectural features are stone and wood. The interior of the house is tastefully designed and features all modern conveniences. Our guests should be aware of the fact that the house was not built as a guest house but as a private home.
The house consists of two levels. As it is built on a slope, both levels have access to the surrounding garden. On the upper level there is a sun-filled living room with a fireplace, wooden floor and comfortable sofas. The large plate glass window offers a beautiful, uninterrupted view of the mountains and the Vikos River below. Directly off the living room are a well-equipped kitchen and a bathroom. On the upper level there is also a comfortable master bedroom which opens onto its own covered terrace.
Wooden steps lead from the living room down to the lower level and a traditional stone-built bedroom with two double beds and a fireplace. Adjoining this bedroom is a third, wooden-paneled bedroom with one double bed. There is also a kitchenette and a bathroom. (Please note that in order to access the stairs, the kitchenette or the WC from the wood-paneled bedroom, one must pass through the stone-built bedroom.)
The house is surrounded by a garden with many stone terraces and shady areas for relaxing and dining.
A stone pathway through the trees below the house leads to a peaceful spot with a wooden bench which is perfect for reading and bird watching.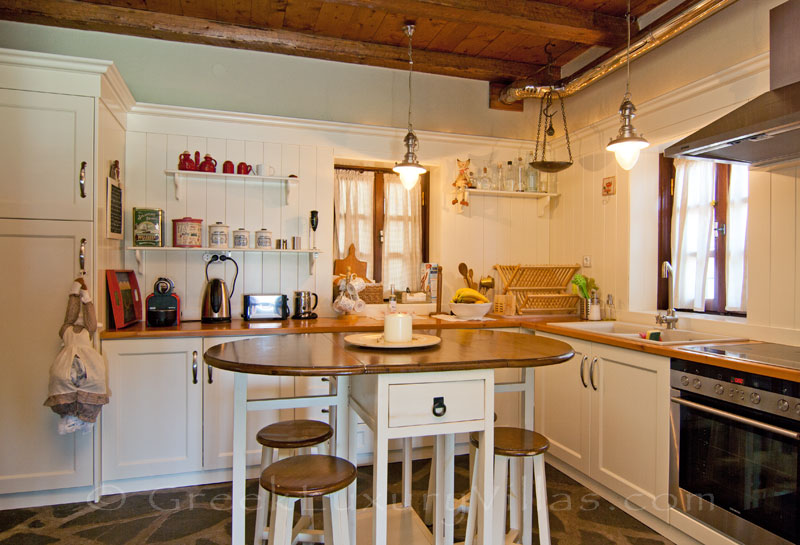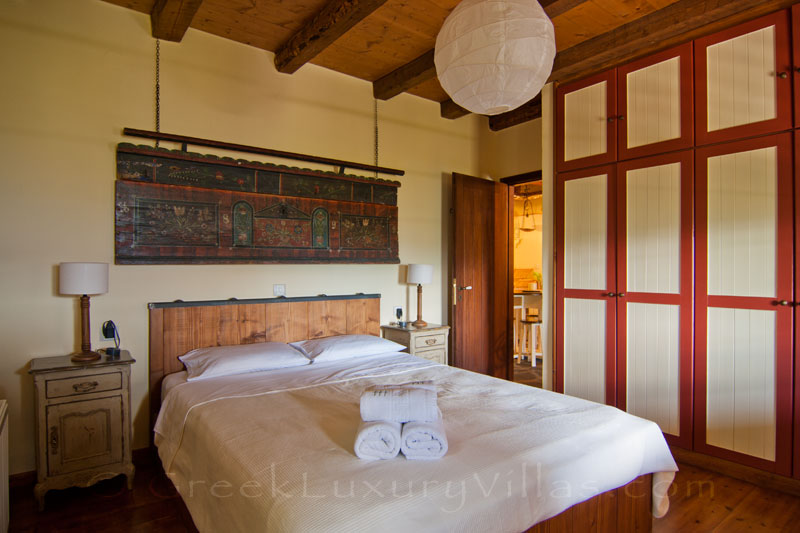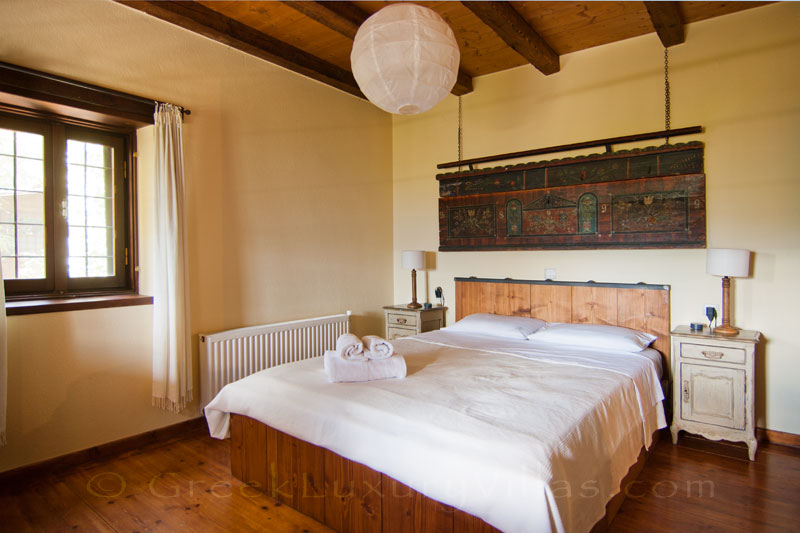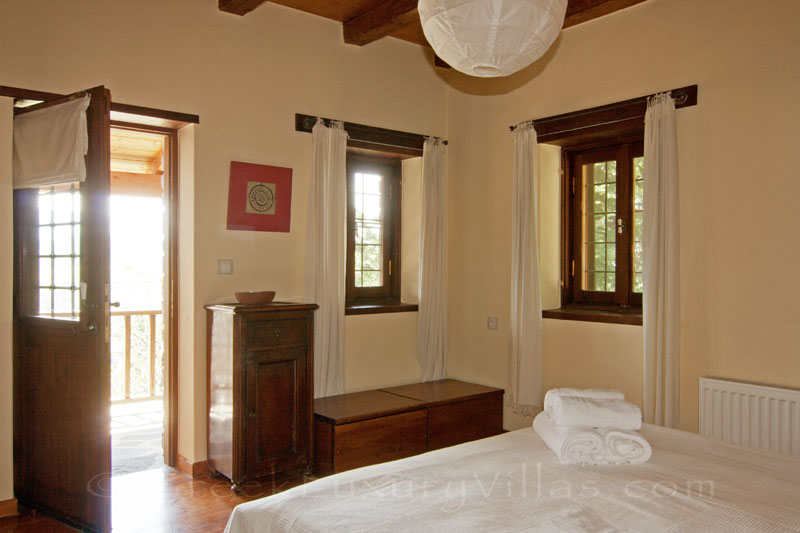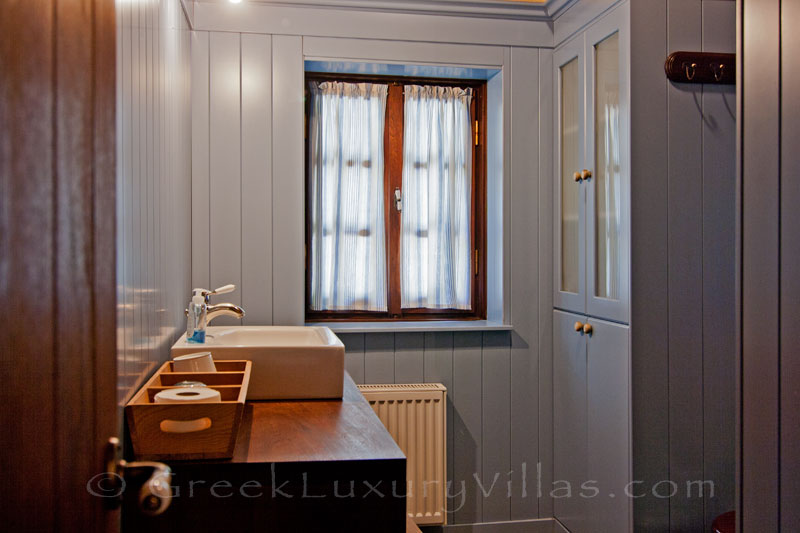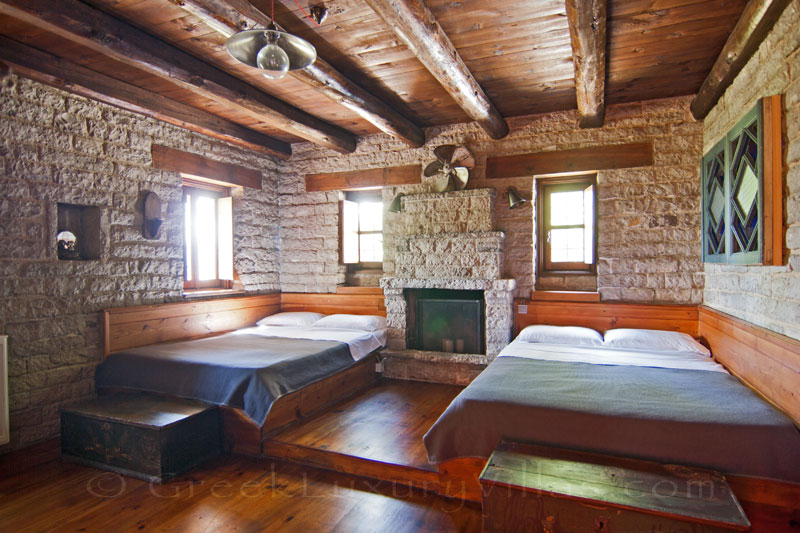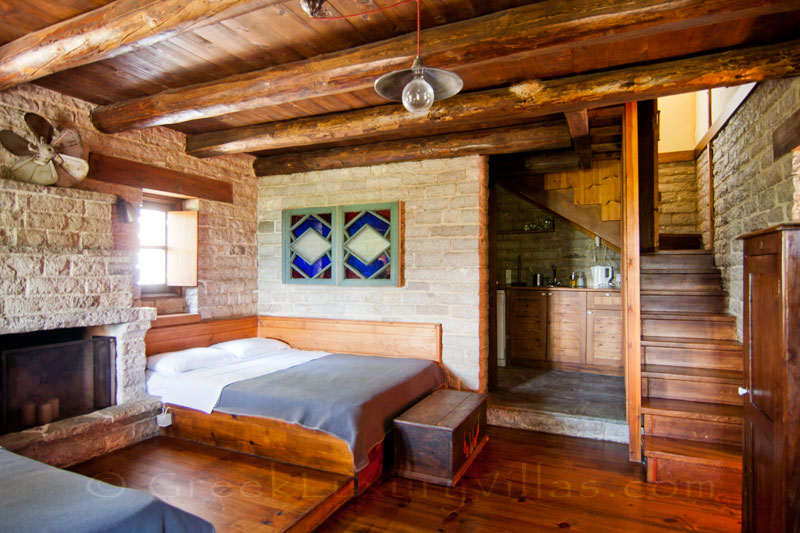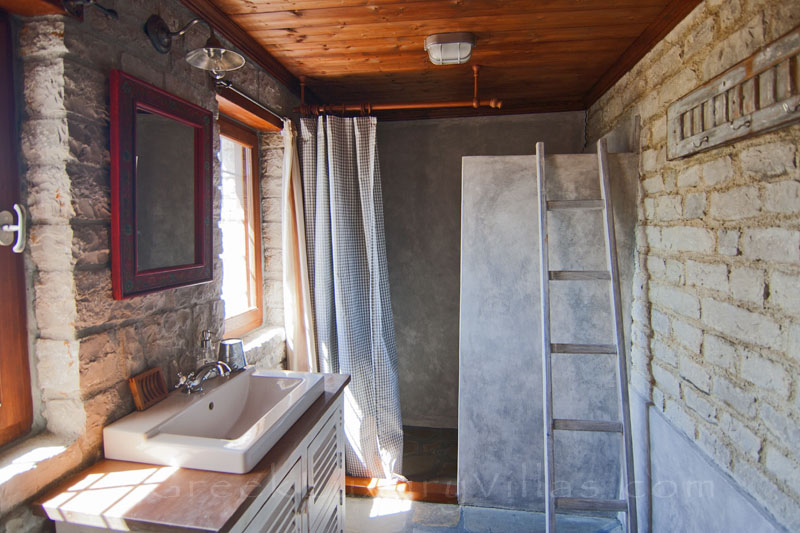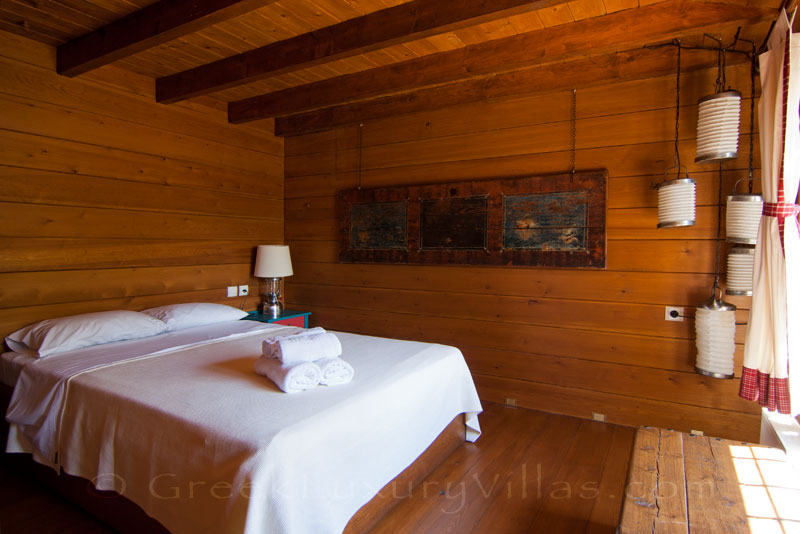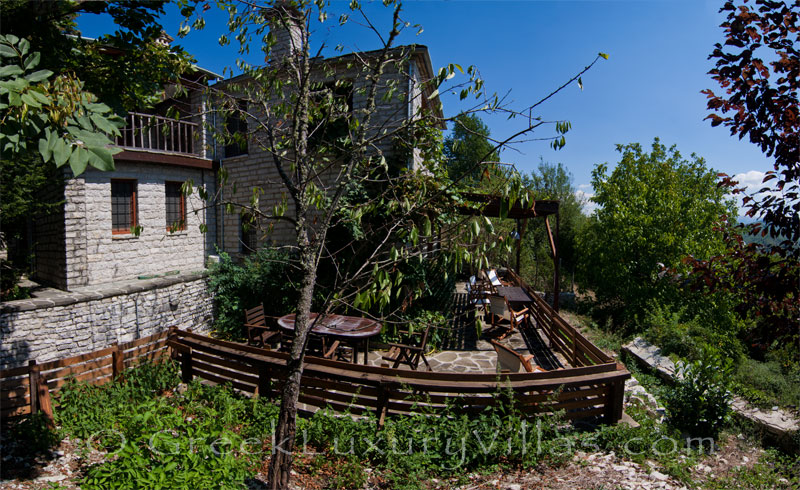 Guesthouse of Mountain House in Zagori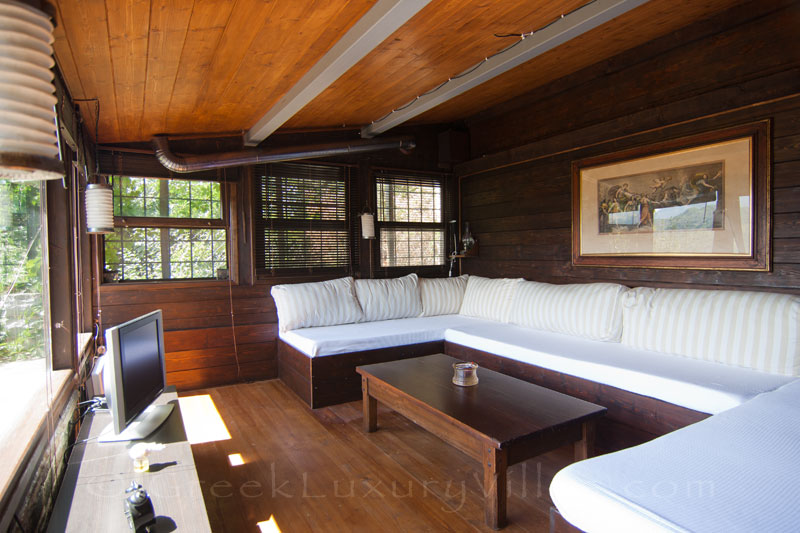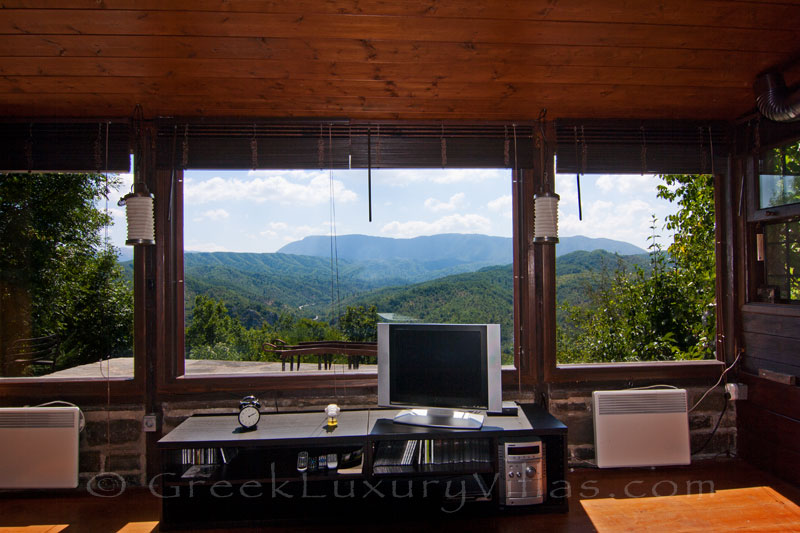 Villa Features
Bicycles / Mountain Bikes
Facilities
Washing Machine, Hair Dryer
Kitchen Facilities
Electric Stove, Oven, Espresso Machine, Filter Coffee Machine, Briki (Greek Coffee Maker), Kettle, Toaster, Dishwasher, Sandwich Maker
Multimedia Facilities
TV, Sat-/Cable TV, DVD, HiFi-Stereo, WiFi-Internet, PC/Laptop
AirCon/Heating
Central Heating, Open Fireplace
Child Friendly
Baby Bed, High Chair, Shutters / Black-Out Curtains, Enclosed Property (wall, fence)
Pet Friendly
Pets welcome (with prior notice)
Included Services
Maid Service 2 x weekly, Change of Sheets 2 x weekly, Welcome Basket
Services at Extra Charge
Private Chef, Guided Tours