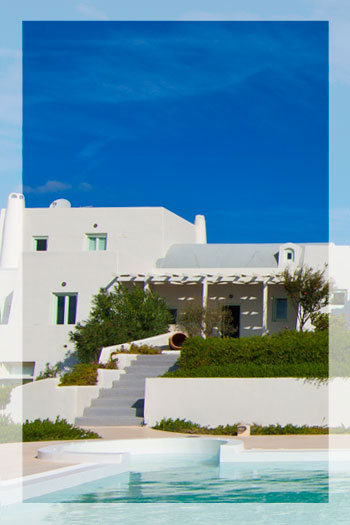 Prices for 2019 in Euro per day
1 January - 31 May
1 October - 31 December
1300 €
1 June - 30 June
1 Sept. - 30 Sept.
1600 €
1 July - 31 August
1920 €
Booking Conditions: A 50% non refundable deposit is required at the time of booking. The rest of the amount is to be settled 4 weeks prior to arrival.
Payment Method: Bank transfer in Euro.
Minimum Rental: 4 Nights
Cancellation Policy: In case of cancellation, any payments made are forfeited.
Modern Villa with Heated Pool and Residential Recording Studio
Personal Review
If you are a large group that prefers to have a spacious and sun spoiled villa with modern amenities as well as huge outdoor spaces and absolute privacy, then this luxury villa in Akrotiri is perfect for you.
Well away from the hustle & bustle of Oia and Imerovigli, located on a hill with view to these same highlights of the island on one side and the Aegean Sea to the other side, this luxury villa offers total privacy and tranquility.
Built on 6700 sq.m. of land, the villa thrones over the surrounding area with uninterrupted view over the Aegean Sea to nearly all sides.
The large heated pool with built-in Jacuzzi, the pool bar and plenty of outdoor spaces to soak up the Greek sun is unique on Santorini. In fact, the entire villa is probably unique on Santorini (but therefore also not very typical for Santorini). It is huge, modern and very well designed. Another unique aspect of this villa is the full scale professional recording studio in the lower ground floor of the villa, one of the best new recording studios in the world!! For obvious reasons it remains locked for most guests and therefore I will provide further details later on for those who are seriously interested in a professional recording studio.
The dominant colour of the interior is white and shades of off-white as well as pale green. Plenty of large windows let the Greek sun fill all rooms with sunlight, underlining the cheerful character of this luxury villa and making it hard to find reasons to leave. It goes without saying that you have to make your way to Oia and Imerovigli to unite with the crowds of tourists absorbing the atmosphere of the sunset illuminating the multicoloured houses built like a staircase down the cliff, but on the other hand, you are close to some of the best beaches on Santorini and when you do want to have peace of mind, you are living in a tranquil heaven.
A number of communal rooms for dining, living, reading, playing ... are spread throughout the villa for everyone to find his personal retreat.
The 2 master bedrooms, better described as suites, are on the ground floor and fully equipped with en suite bathrooms. 2 more, slightly smaller, bedrooms are on the lower ground floor and again with en suite bathrooms. Another bedroom with en suite bathroom is on the first floor.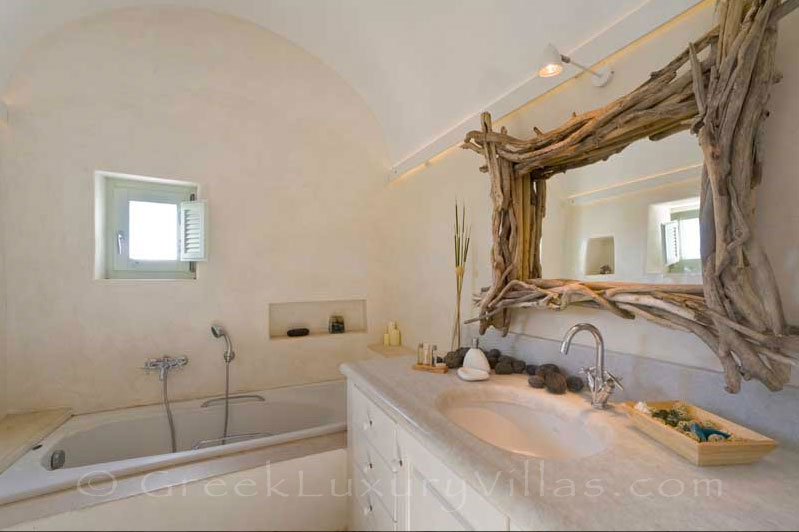 Black Rock Residential Recording Studio
Black Rock Residential Studio was designed by Roger D'Arcy of Recording Architecture, and offers a pristine SSL room with 9000J-series Ultimation/Total Recall console and Genelec monitoring. ProTools and a good selection of microphones (pair of Neumann U87s, KM184s, EV RE20s, etc) and outboard gear (Neve 1081s, Manleys, etc) are available. The main studio offers two recording booths for drums and/or vocals.
Black Rock Residential Studio won the Audio Pro Award as Best New Studio in 2009!!
Black Rock Residential Studio Description
The studio at Black Rock is located on the west side of the house on the ground floor. It is a beautifully designed and crafted creative space, featuring a variety of different areas making it a first-rate facility for both tracking and mixing projects.
The studio is accessed through its own external entrance, which leads you into a large 40 sq meter day-lit control room looking out over the sea. At the centre of the room is a pristine SSL 9080 J Series console with Ultimation and Total Recall. The desk is joined by an awesome monitoring setup, comprising Genelec 1035B speakers and a choice of KRK E8 and Yamaha NS10 nearfield monitors. A Protools HD2 rig runs on an Apple MAC PRO. There is a good selection of outboard including Neve 1081 Classic pre-amps, Manley, Focusrite and Avalon dynamics and a variety of FX processers. Clients will have access to a great choice of microphones, including several Shure, Senheiser, Neumann and AKG models.
Situated next to the control room is the main recording area, which measures 25 sq meters. This long and tall room features a unique 6-metre high arch-shaped ceiling which helps produce a fantastic sound. At one end of the room are some sea-facing windows letting plenty of natural light into the space.
On the other side of the live room are two good-sized recording booths. The first is a specially designed 15 sq meter drum booth, capable of producing a fantastic range of colourful drum sounds. At the back of the booth is another window facing the sea and the pool, and at the front is a large glass divide into a smaller booth, which serves as a great isolation space for recording vocals or guitars. This small booth is adjoined to the villa's kitchen and dining area providing an additional entrance and exit to the studio.
The design of the studio has allowed for fantastic visibility between all of the separate areas, through a number of soundproof windows and thick glass doors. Each of the studio's rooms has the benefit of natural daylight. An additional unique feature which the studio will provide are special tielines connecting to Black Rock's bedrooms and outdoor spaces, providing clients with a whole host of other recording options.
Please contact us for further details and about renting this studio for your recordings.

Villa Features
Private Pool, Outdoor Jacuzzi, BBQ Area, Outdoor Dining Area
Facilities
Ironing Board, Security / Alarm, Sun Beds, Umbrellas, Parking on Property, Hair Dryer
Kitchen Facilities
Electric Stove, Oven, Microwave, Nespresso Machine, Filter Coffee Machine, Kettle, Dishwasher, Food Processor (Multi), Blender, Juice Maker, Charcoal BBQ, Sandwich Maker
Multimedia Facilities
TV, Sat-/Cable TV, DVD, HiFi-Stereo, CD-Player, WiFi-Internet, Indoor/Outdoor Sound System
AirCon/Heating
AirCon in all bedrooms
Child Friendly
Baby Bed, High Chair, Shutters / Black-Out Curtains, Enclosed Property (wall, fence), Large Outdoor Space
Pet Friendly
Pets welcome (with prior notice)
Location
Included Services
Daily Maid Service, Change of Sheets 2 x weekly, Concierge Service, Pool / Garden attendant, Port/Airport Transfer
Services at Extra Charge
Private Chef, Grocery Service / Delivery, Port/Airport Transfer, Guided Tours, Babysitter / Childcare, Laundry Service, Driver, Yacht/Boat Charter, Massage & Beauty Treatments, Villa Pre-Stocking
Studio Equipment Specifications:
CONTROL ROOM 6.8m x 5.6m
STUDIO 6.45m x 3.7m
DRUM BOOTH 3.7m x 4.1m
BOOTH 3.7m x 2.5m
Console:
Solid State Logic 9080 J series
with Ultimation and Total recall
Digital Recorders:
Pro Tools HD2
Digidesign 192 I/0 X 3
Apple MAC PRO
Monitors:
Main : Genelec 1035B
Near field : KRK VXT 6, Yamaha NS10
Equalizers, Pre-Amps:
Neve 1081 classic (4 modules)
Amek 9098 DMA
GML 8200
Dynamics:
Manley ELOP
ADL Stereo tube c/l 1500
Avalon 2044
Empirical Labs Distressors w/Brit mode (2)
Focusrite RED 3
Neve 33606 Stereo comp/Limiter
FX Processors:
Lexicon 960L
Eventide Orville
Eventide H8000FW
Lexicon PCM 81
Yamaha Spx 990
Microphones:
Electro Voice RE20 (1)
Shure SM 58 (4)
Shure SM 57 (3(
Sennheiser 421 (4)
Neumann U87 (2)
Neumann KM 184 (2)
AKG C 451 (3)
Royer R 121
DPA 4011 (2)
Microtech Geffel  711
AKG C12-VR