Greek National Tourism Organization License:
1167K91000915201
Luxurious villa in Oia, Santorini, Greece
Luxurious sea captain's house with spectacular view in Santorini
This Mansion was built around 1840 and is located in the NW end of the Oia settlement.
It constitutes a prominent example of neoclassical architecture with the integration of characteristic features of folklore architecture, giving this villa a particularly interesting style, that distinguishes it from all the other neoclassical houses on the island.

The view from the terrace was featured in some of Hollywood's most famous blockbusters that made Oia's sunset famous all over the world & has attracted millions of visitors since.

The house has been fully renovated to the highest modern standards while retaining its original character and glory furnished with sofas, china, cabinets, Venetian mirrors, old chandeliers etc., and valuable objects brought by the captains when they travelled with their sailing vessels.
It offers all modern comforts and maintains the authenticity and historical atmosphere of its era. It has Wi-Fi, air conditioning, heating etc and in is one of the very few properties on the island, that can operate all year round.
The Mansion in Oia sleeps eight people in four bedrooms, either in four double beds or in a combination of two double beds & four single beds. It has three bathrooms, two of which are en-suite.

With a total coverage of all levels of about 410 m2, it is an unusually big house for Oia standards. It consists of 5 levels, the ground floor, the first floor, the terrace, the jacuzzi level & the basement. The basement offers an extra bed & bathroom, if one decides to bring along some extra staff.
Please note that pets are not allowed in this property.
A. Ground Floor (about 165 m2)
The ground plan is formed according to the neoclassical patterns of the era in which the Mansion has been built. It possess:
The spacious and pebble - paved yard at the western side offers the most beautiful sunsets while looking at the Caldera and the open sea, with its large wooden dining table (seats 8)
 The spacious living room
The dining room which seats 8 - 10 people
The captain's office
The kitchen with all the modern amenities & the traditional wooden stairs that lead to the terrace
A sky lighted patio with a built in peripheral sofa & table (seats 6-8 people)
The Master bedroom with the veranda, a king sized built-in bed, an en suite walking closet & bathroom
The bedroom with an en suite bathroom next to the patio, offers a choice of two single beds or a king sized bed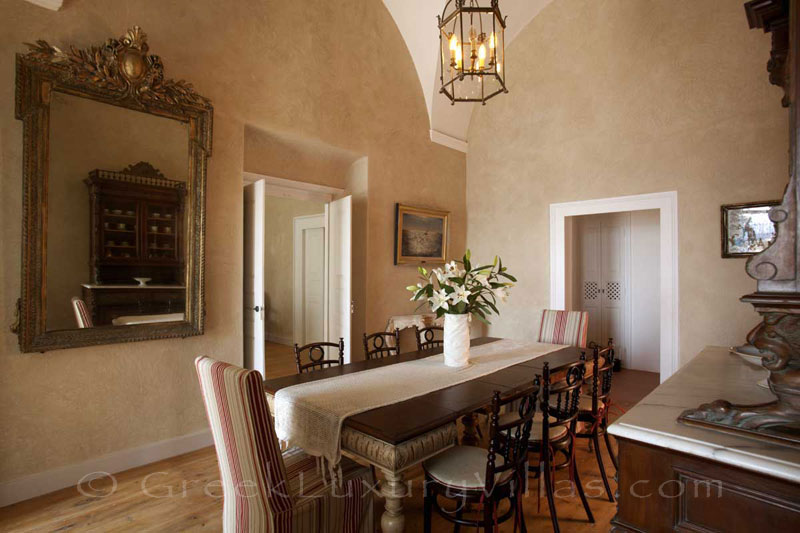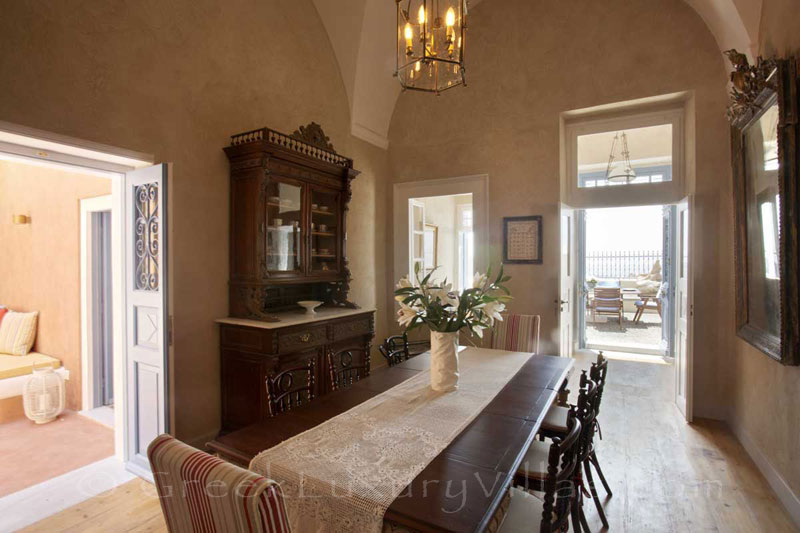 B. First Floor (about 41 m2)
The first floor incorporates two chambers:
The Aegean bedroom with a built in double bed, a vaulted ceiling & a private terrace with spectacular views
A second bedroom with a choice of two single beds or a king sized bed
The area of hygiene with the window on the ceiling
The staircase that leads to the terrace
C. The Terrace (about 110 m2)
The occupants can feel very privileged that to be the only ones to enjoy the truly stunning & famous Oia sunset from the best point of the island while relaxing on the comfortable couches and the jacuzzi.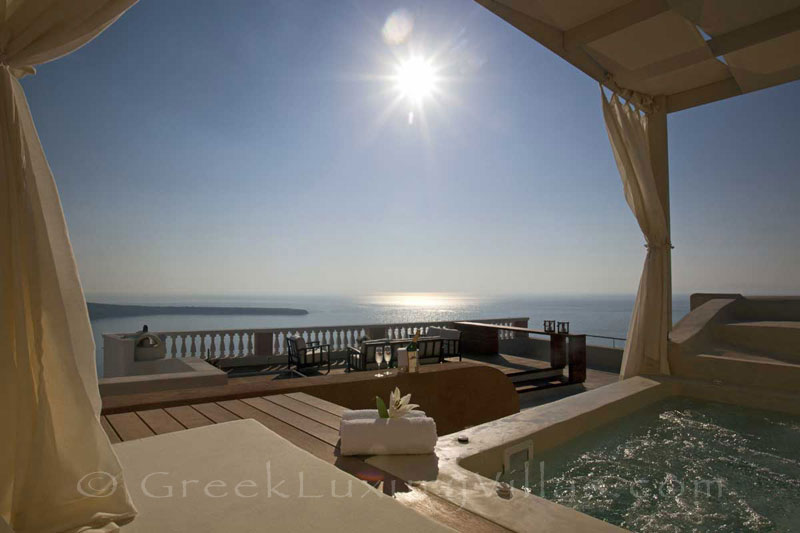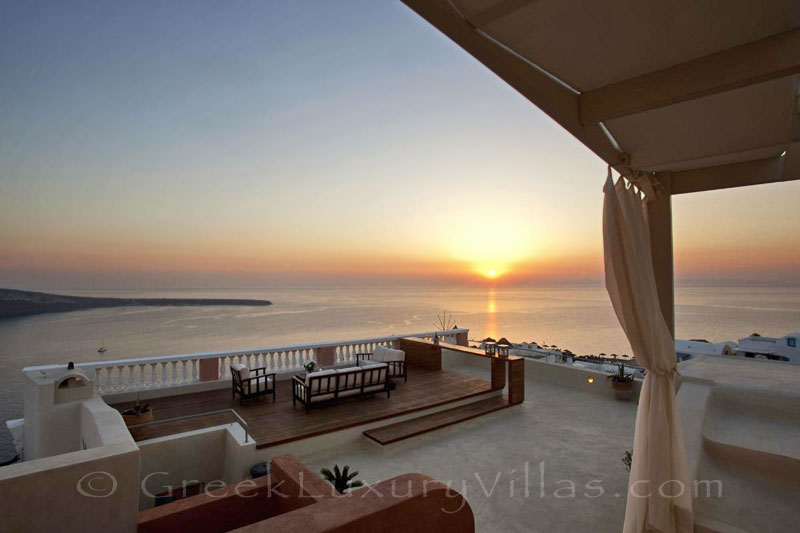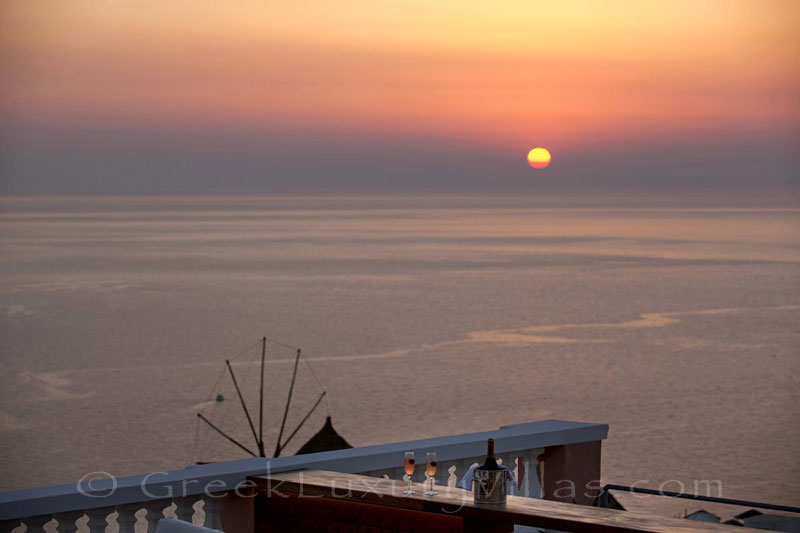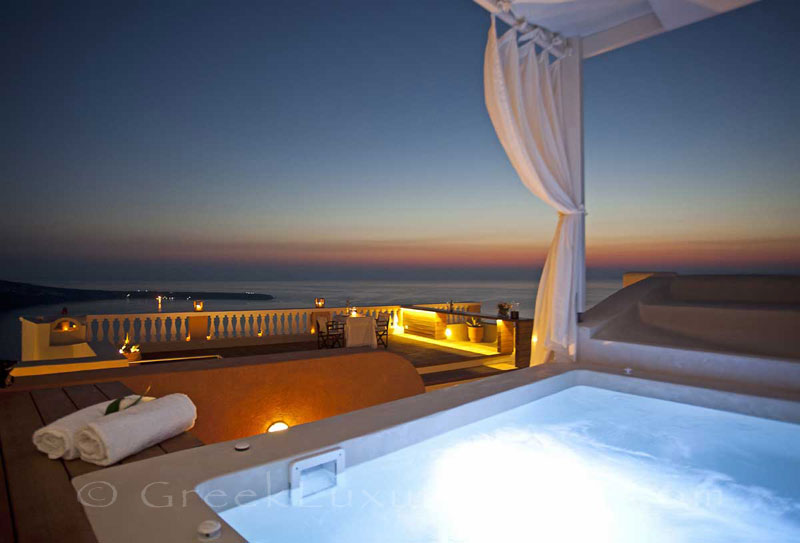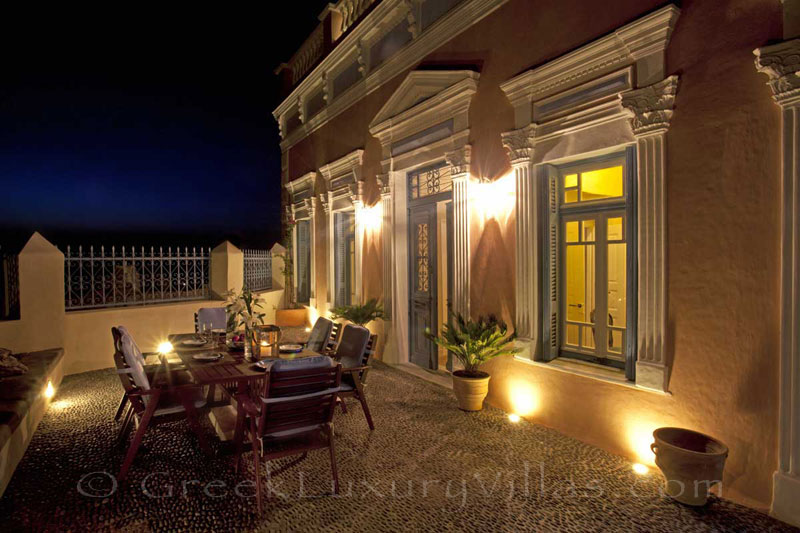 Villa Features
Outdoor Jacuzzi, Outdoor Dining Area, Roof Terrasse
Facilities
Washing Machine, Tumble Dryer, Ironing Board, Security / Alarm, Beach Towels, Hair Dryer, Bathrobes
Kitchen Facilities
Electric Stove, Oven, Microwave, Espresso Machine, Filter Coffee Machine, Frappe Machine, Kettle, Toaster, Dishwasher, Food Processor (Multi), Blender, Sandwich Maker, Electric BBQ/Grill
Multimedia Facilities
TV, Sat-/Cable TV, DVD, WiFi-Internet, Telephone, Indoor/Outdoor Sound System
AirCon/Heating
AirCon in all rooms, Central Heating
Child Friendly
Baby Bed, High Chair, Shutters / Black-Out Curtains, Large Outdoor Space
Location
Included Services
Daily Maid Service, Change of Sheets daily, Breakfast Service (prepared), Concierge Service, Laundry Service
Services at Extra Charge
Private Chef, Grocery Service / Delivery, Port/Airport Transfer, Guided Tours, Babysitter / Childcare, Driver, Yacht/Boat Charter, Massage & Beauty Treatments, Weddings & Celebrations, Yoga Coach, Scuba diving with private U/W guide/PADI, Villa Pre-Stocking
Prices for 2020 in Euro per day
Season
Low
1 Jan - 30 April
1 Nov - 31 Dec.
Med
1 May - 14 June
16 Sept. - 31 Oct.
High
15 June - 15 Sept.
2 Persons
860 €
1.000 €
1.715 €
3 Persons
970 €
1.150 €
1.970 €
4 Persons
1.080 €
1.300 €
2.225 €
5 Persons
1.190 €
1.450 €
2.475 €
6 Persons
1.300 €
1.600 €
2.730 €
7 Persons
1.410 €
1.750 €
2.980 €
8 Persons
1.520 €
1.900 €
3.235 €
Additional accommodation tax is not included and must be paid at the property directly.
Minimum stay: 2 nights from the 1st of May to the 30th of September
Check in/check out: 14:00/12:00 respectively
Maximum 8 guests can be accommodated at the villa.
Children under 6 years of age are free of charge.
Booking Conditions: 50% booking deposit due on reservation; balance due 3 weeks before arrival
Payment Method: Accepted payment method is bank transfer in Euro or credit card
Cancellation Policy: From the 1st of January to the 30th of April & from the 16th of October to the 31st of December, cancellations made up to 21 days prior to arrival are free of charge. For cancellations made 20 days or less prior to arrival, there is a charge 50% of the total accommodation cost. From the 01st of May to the 15th of October cancellations made up to 30 days prior to arrival are free of charge. For cancellations made 29 days or less prior to arrival, there is a charge 50% of the total accommodation cost. In case of No-Show or earlier departure, the total amount of the reservation will be charged.