Prices for 2023 in Euro per week
*Prices for July and August Include: Cook, Maid, Butler, Suzuki Jimny 4x4 and a group A car. Breakfast and one more meal per day at the choice of the guests.
Booking Conditions: A 30% non refundable deposit is required at the time of booking. The rest of the amount is to be settled 6 weeks prior to arrival.
Payment Method: Bank transfer in Euro.
Cancellation Policy: In case of cancellation, any payments made are forfeited.
Romantic and Spacious Waterfront Villa on Paxos, Greece
Waterfront Villa on Paxos, Greece
Personal Review
This exclusive property is not just a luxury villa in Greece, but something for guests who are seeking a private hide-away of unique style and atmosphere directly on the seafront. The 50,000 sq.m. property stretches along 500 meters of coastline including a sandy beach that is as private as it can be (by law there has to be public access, but it is hardly visited by anyone). The property reflects the owner's lifestyle and exclusive taste influenced by his travels to India and other cultures. Select pieces of art, each one with it's own story to origin, create a relaxed, yet cheerful atmosphere but the emphasis lies on the plethora of verandas and terraces inviting you to enjoy the sea view and absorb the sun in total privacy. Each bedroom has access to a private veranda, nearly all bedrooms have mesmerizing sea view and a bathroom en-suite. The age of the property may be obvious yet it is perfectly maintained and always kept immaculately clean to preserve it's wonderful charm.
The waterfront location with two boat access make this villa ideal for those who come by boat or wish to make use of a 500 hp Boston Whaler that comes extra (please enquire).
The fact that the kitchen with 2 staff bedrooms is in a separate building next to a huge outdoor area comfortably seating more than 50 guests, suggests that you should have a private chef (available on request) so that you can enjoy the total serenity and absolute privacy with friends whilst sumptuous meals are being prepared in the distance. And if you don't want to join the group for dinner, there are various dining areas scattered throughout the gardens for a private candle light dinner.
The house develops around a main living room (with open fireplace), a protected back patio and a front veranda, 3 different sitting areas offering a private corner to retreat to and enjoy the privacy and a small TV/living room (with a new Schimmel vertical piano).
On the wings are 5 bedrooms (2 with double beds, 2 with twin beds and 1 with a single bed) as well as 4 bathrooms. One of the bedrooms with 2 single beds and the bedroom with the single bed share a bathroom, all other bedrooms have their bathroom en-suite. Most of the bedrooms have their own secluded terrace with sea view.
A few steps away is the kitchen and staff-quarters with 2 bedrooms (1 double and 1 single). The bedrooms are tastefully decorated with en-suite bathrooms and could well accommodate additional guests if you decide not to bring additional staff and cook yourself.
A short stroll through the garden, past 2 romantic garden tables for dining al fresco and the large outdoor dining area, is a cute natural stone-built cottage with 2 single beds, bathroom and a little kitchenette. It is the most private "corner" of the property and right next to a spacious open area with stone-built seating all around one side of it, to enjoy the sea view.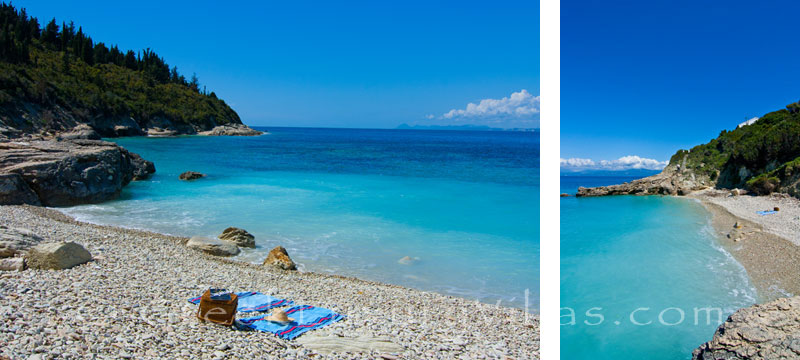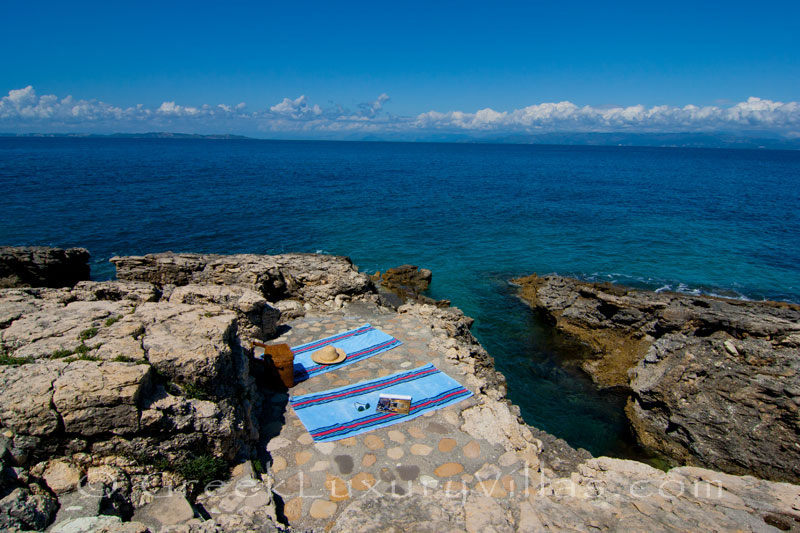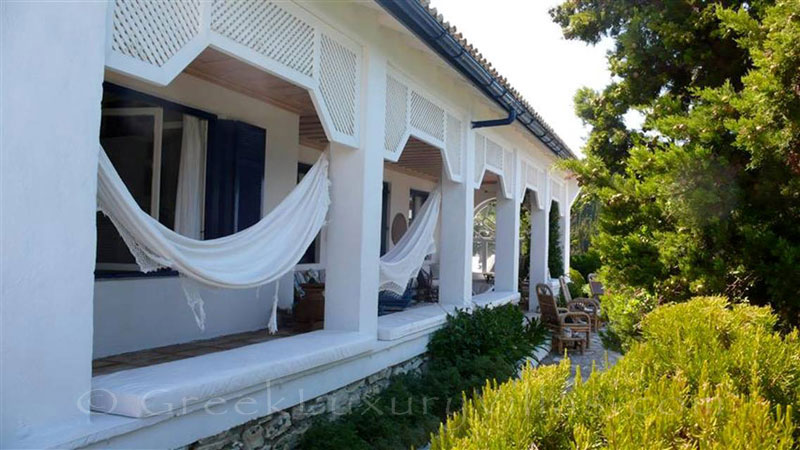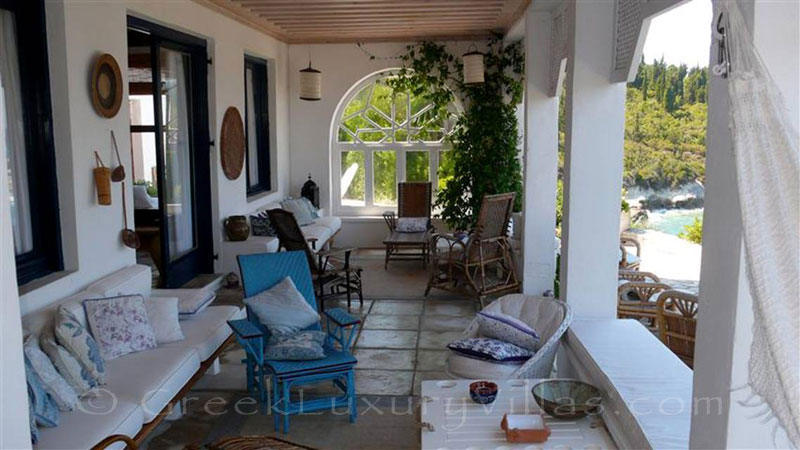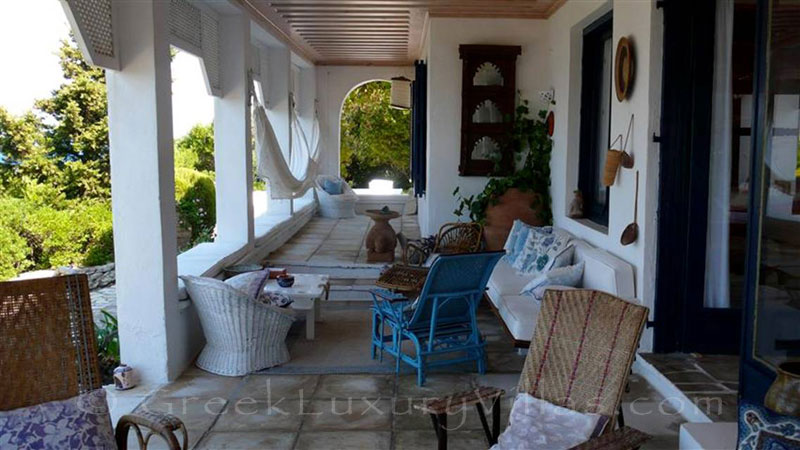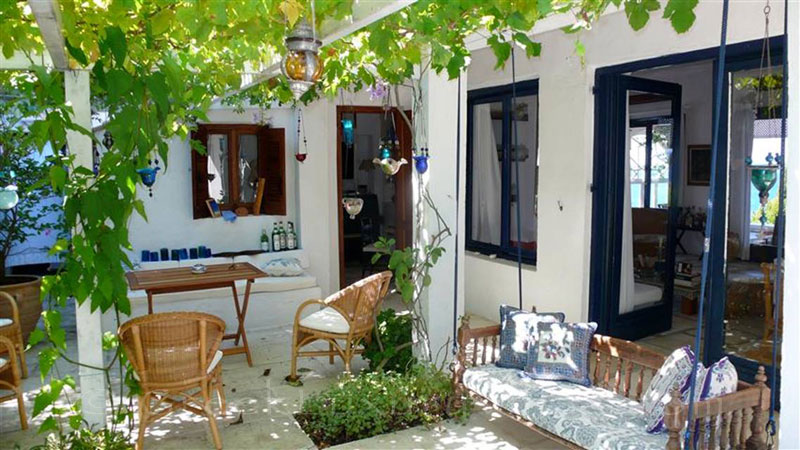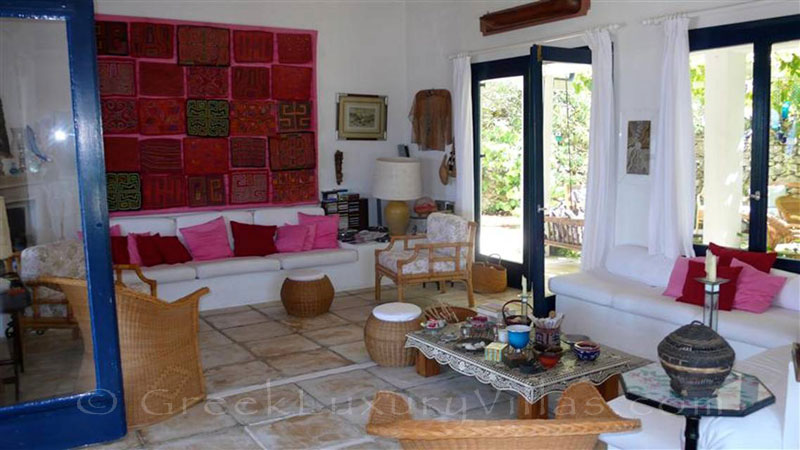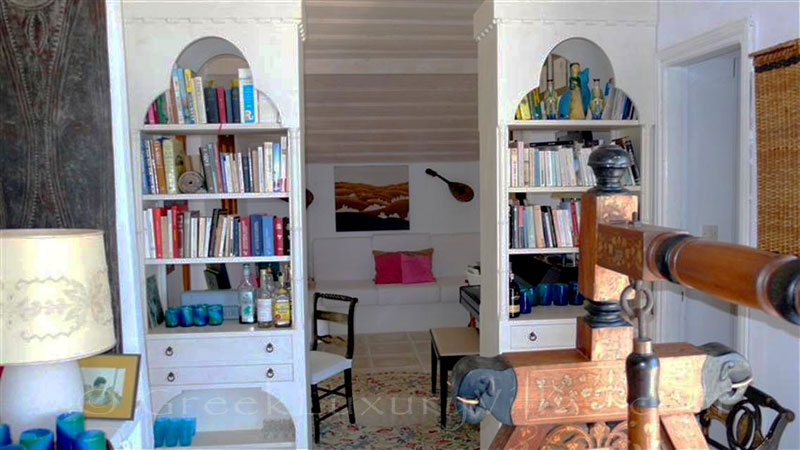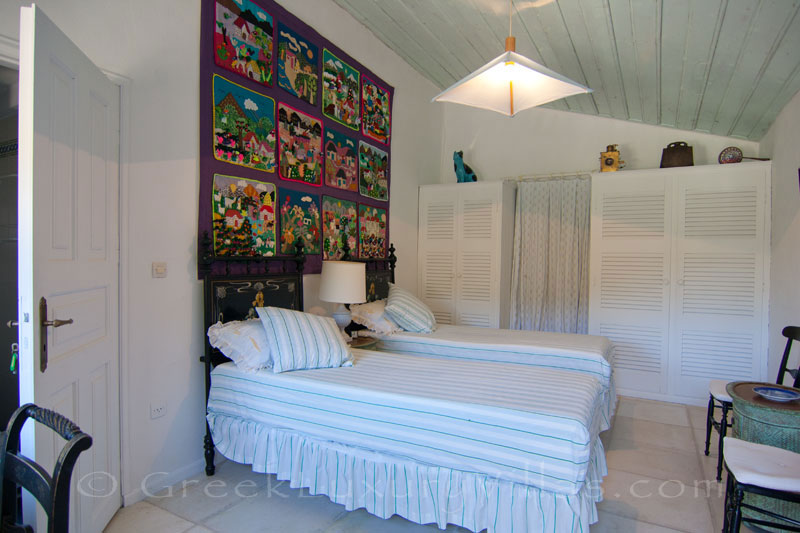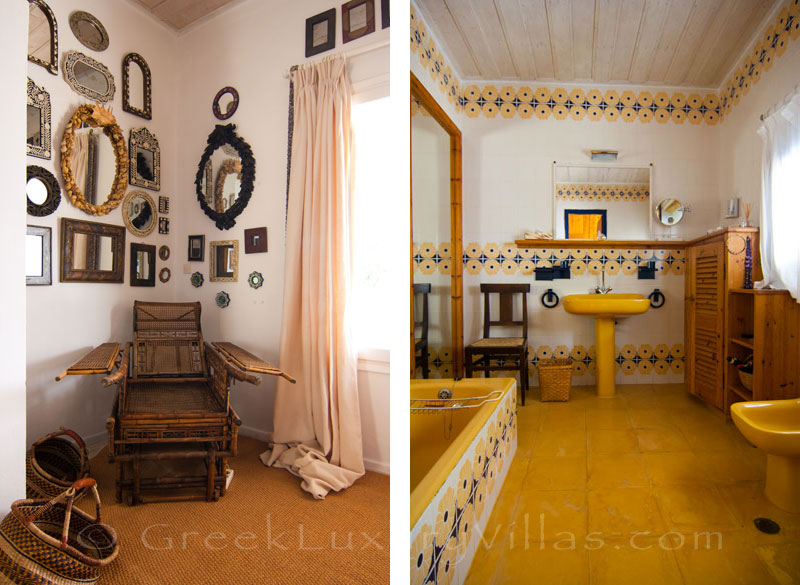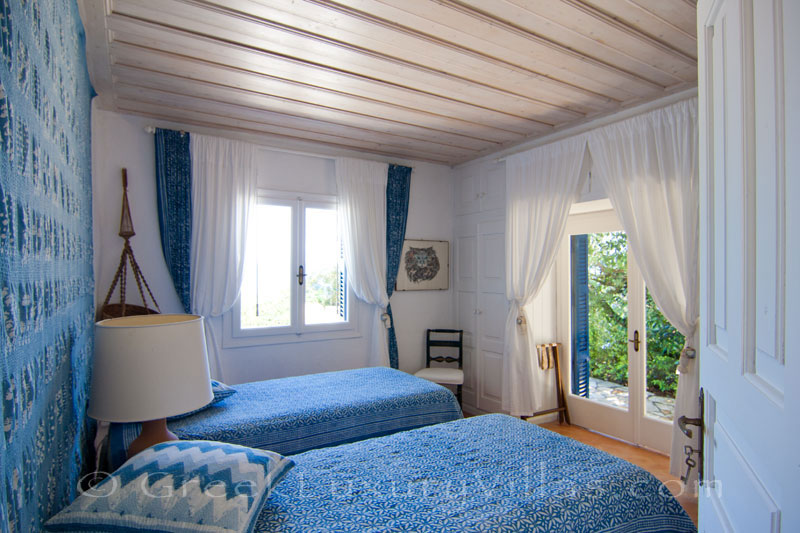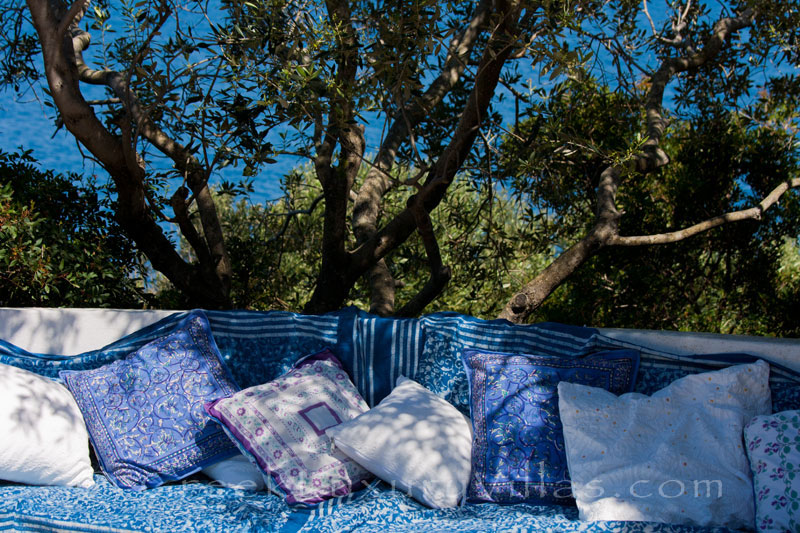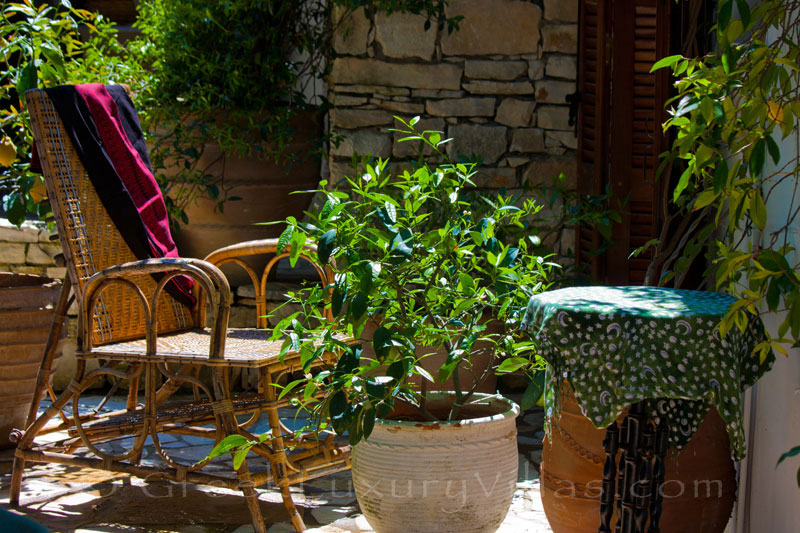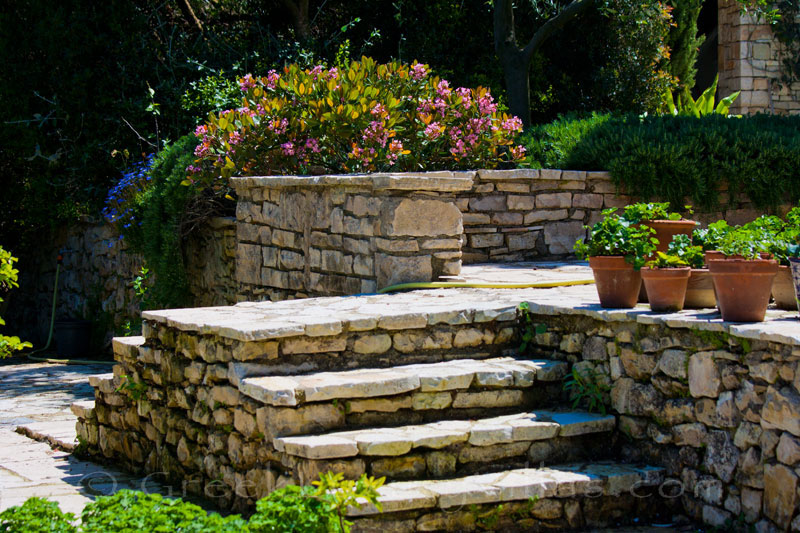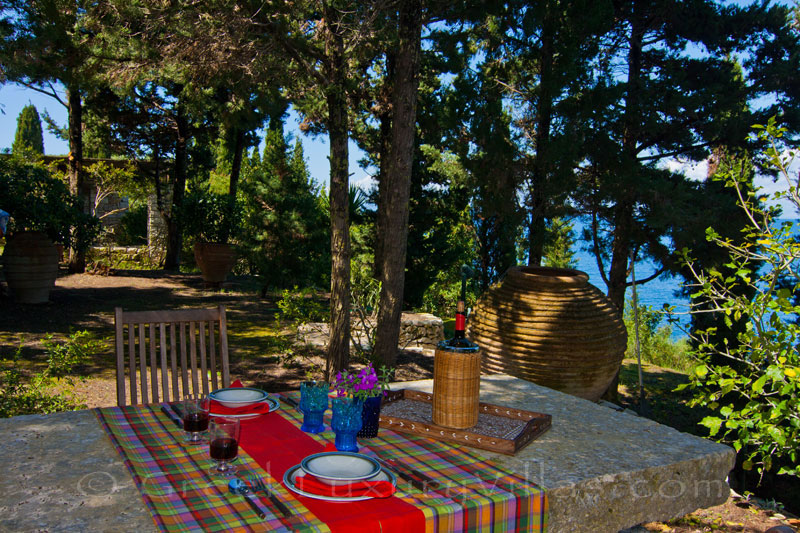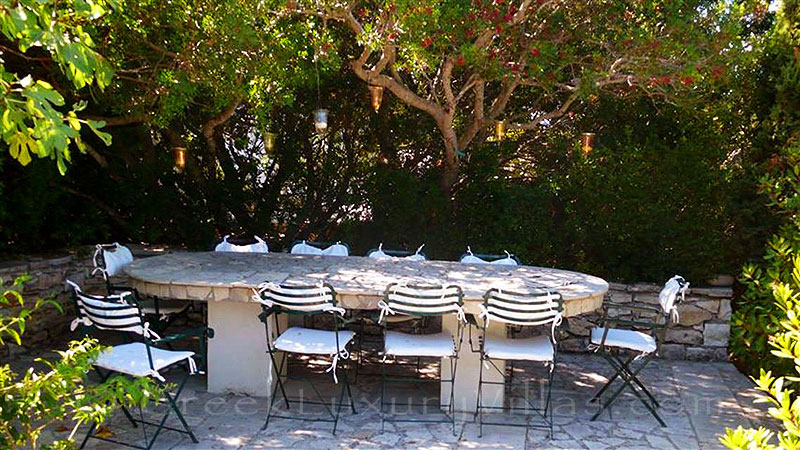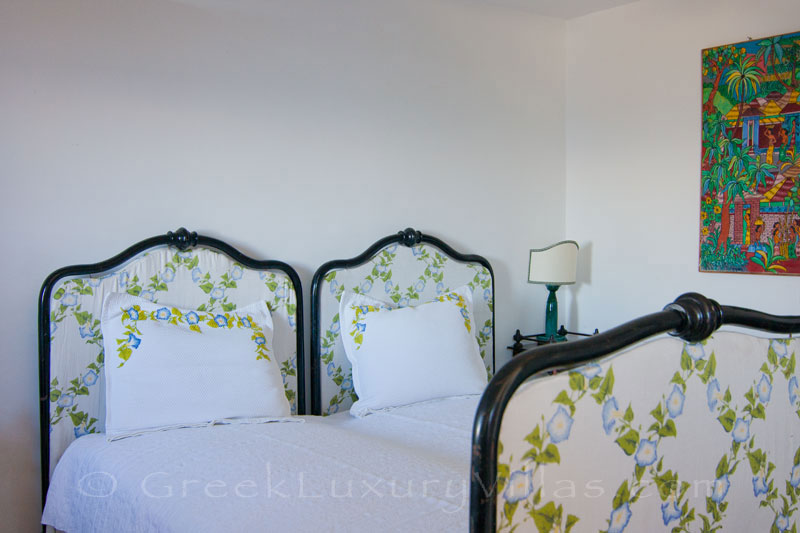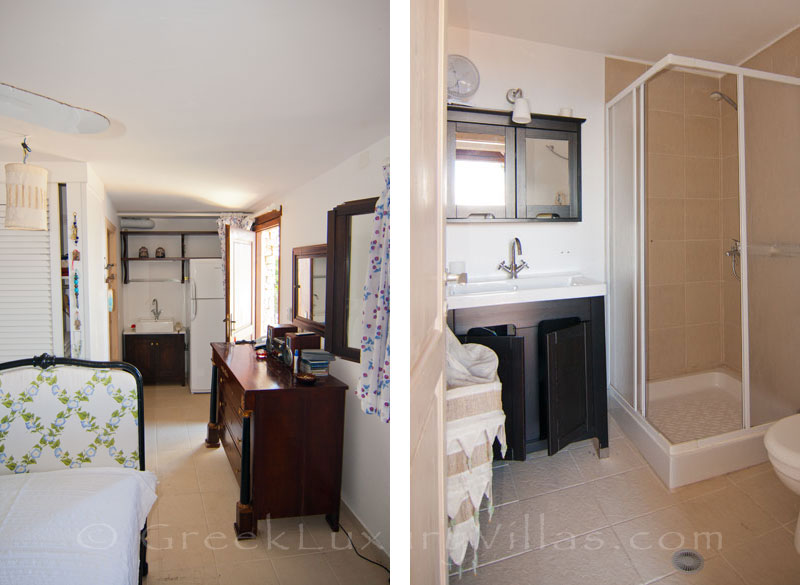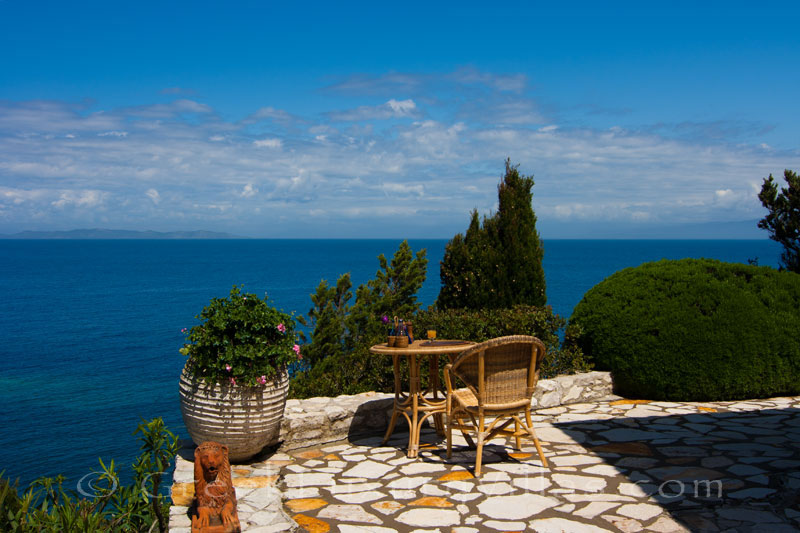 Villa Features
Outdoor Dining Area
Facilities
Washing Machine, Tumble Dryer, Ironing Board, Sun Beds, Parking on Property
Kitchen Facilities
Electric Stove, Gas Stove, Oven, Microwave, Briki (Greek Coffee Maker), Dishwasher
Multimedia Facilities
TV, Sat-/Cable TV, DVD, CD-Player, WiFi-Internet, Telephone
AirCon/Heating
Open Fireplace
Child Friendly
Baby Bed, High Chair, Shutters / Black-Out Curtains
Pet Friendly
Pets welcome (with prior notice)
Location
Included Services
Daily Maid Service, Change of Sheets 2 x weekly, Concierge Service, Pool / Garden attendant
Services at Extra Charge
Private Chef, Breakfast Service (prepared), Laundry Service, Yacht/Boat Charter