Prices for 2022 in Euro per day
17 July - 27 August
990 €
28 August - 17 Sept.
640 €
18 Sept. - 9 October
500 €
Booking Conditions: To confirm the booking, a deposit of 30% is required. The remaining 70% is due 45 days before arrival.
Payment Method: Bank transfer in Euro.
Cancellation Policy: In case of cancellation, any payments made are forfeited.

Greek National Tourism Organization License:
0831K10000317101
A traditional villa with private pool and stunning view on Lefkas
Panoramic Sea View over the Ionian Sea
This country house is located in the south of the island of Lefkada, on a tip that leads only to the lighthouse. From the terrace you look to the south and you are in a slightly raised position which allows a wonderful panoramic view over the largely untouched nature with the sea and the islands of Kefalonia and Ithaca. You can not see any houses, only two or three goats can be made out. The harsh climate in the winter hardly allows flowers or large trees to thrive, instead strongly fragrant herbs and spiny shrubs dominate, giving thi atmosphere and everlasting fragrance the typical Mediterranean touch.
The owner took all this into consideration during the construction of the villa and so a beautiful house was created, which reminds a little bit of a country house. Mostly natural resources such as natural stone and oak wood were used for the construction, there are various smaller seating areas in the shade of the few old trees and everywhere thrives oregano, thyme, sage, lavender and rosemary. Natural aromatherapy!
In some places in the garden you will discover strange constructions reminiscent of bygone times when the owner's parents were still farming here. I am convinced that almost every guest will ask the landlady sooner or later what these served for and I can only encourage you to do so, because the answers are (especially for children) in today's age hardly comprehensible.
The villa consists of two floors which are both accessible from the outside and an internal staircase connects them, too. Due to the hillside, both levels are somehow "ground floor".
In the upper part there is a spacious living and dining room in country house style. Wooden floor, natural stone walls, rustic wooden furniture, fireplace, hand-knotted carpet. In the further course there is a kitchen and three bedrooms as well as a bathroom.
The lower floor has two more bedrooms, two bathrooms and a smaller kitchen.
The rooms may seem a bit plain decorated in the photos, but with all the windows-glass doors that deliver this enchanting ocean view to bed, it makes so much more sense when you are there.
A few steps from the house, just a bit higher than the house, is the 4 x 10 m pool with its shad-delivering pergola and sun loungers. Anyone who settles here, will experience nature with all their senses and it becomes difficult to concentrate on a book if you have this view as a backdrop.
With so much nature and such total tranquility, you forget that you are less than 10 minutes by car from one of the most famous beaches - Porto Katziki. In summer, this beach is hopelessly crowded. For most visitors the beach is a long drive away, so you have the advantage (and should make use of it) to go there very early, or very late. Of course there are other beaches, although many are similarly famous and therefore just as crowded. Egremni Beach is almost as far and has been voted one of the Top10 in Europe and among the Top100 beaches on TripAdvisor!
If you prefer to eat out, you can go to the tavern "Oasis" which is 5 minutes away. The name is program, you sit in a green oasis under plane trees and surrounded by greenery while you have again this beautiful view that we already know from our home.
The above mentioned beaches and tavernas are to the West of the house. To the East you reach the village Vasiliki in 10 minutes. Again, there is a large long sandy beach and lots of shops. This is also where a small ferry connects Lefkada with Kefalonia. In Vasiliki there are plenty of taverns and cafes right on the waterfront, there are a few shops for strolling and of course groceries, bakery, bank, supermarket etc. Also among water sports enthusiasts Vasiliki is popular, there is lots of windsurfing going on, sailing, there is a diving center and lots of fun-things like banana boat etc.
So in this villa you are all to yourself and yet you only need about 10 minutes to return to civilization. This makes this villa ideal for nature lovers and families with children who want to let off steam again without having to give consideration to sensitive neighbors.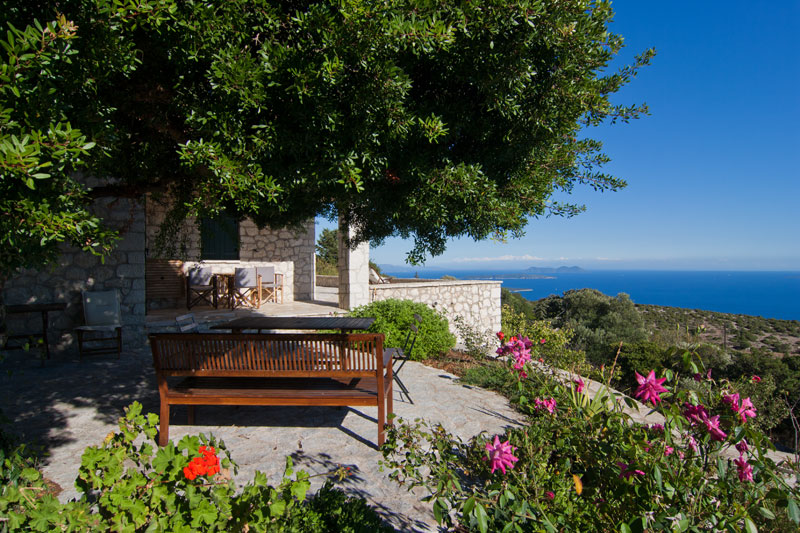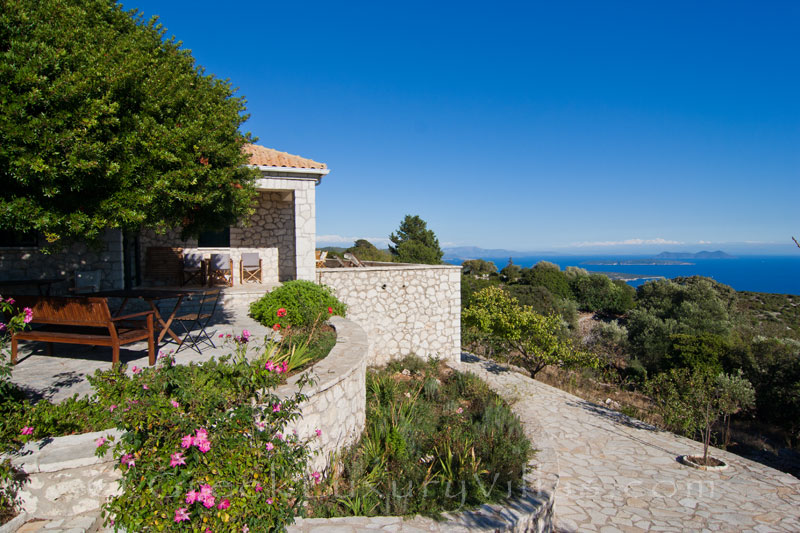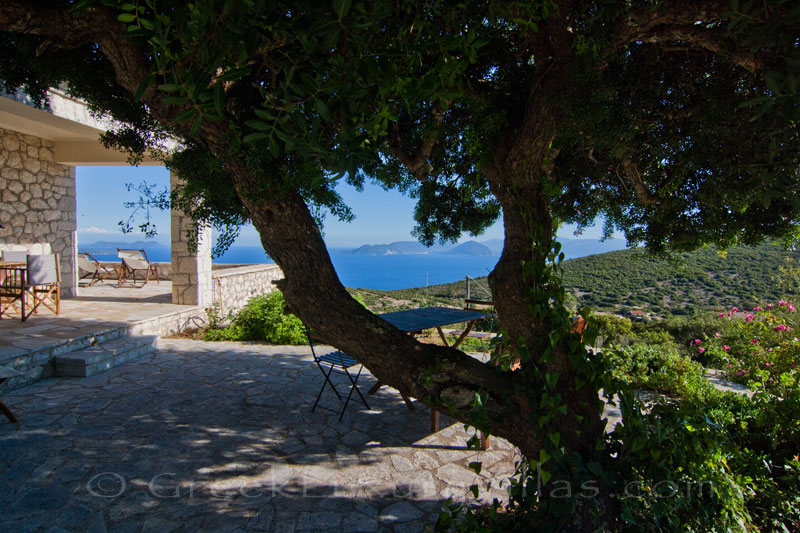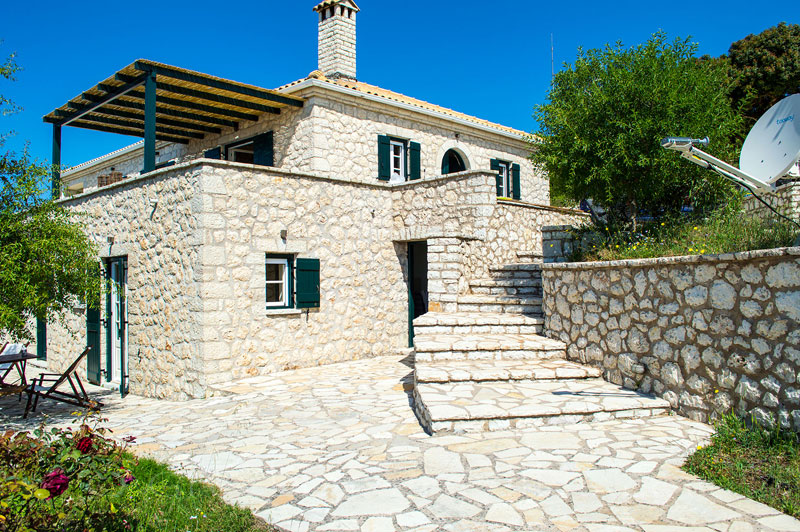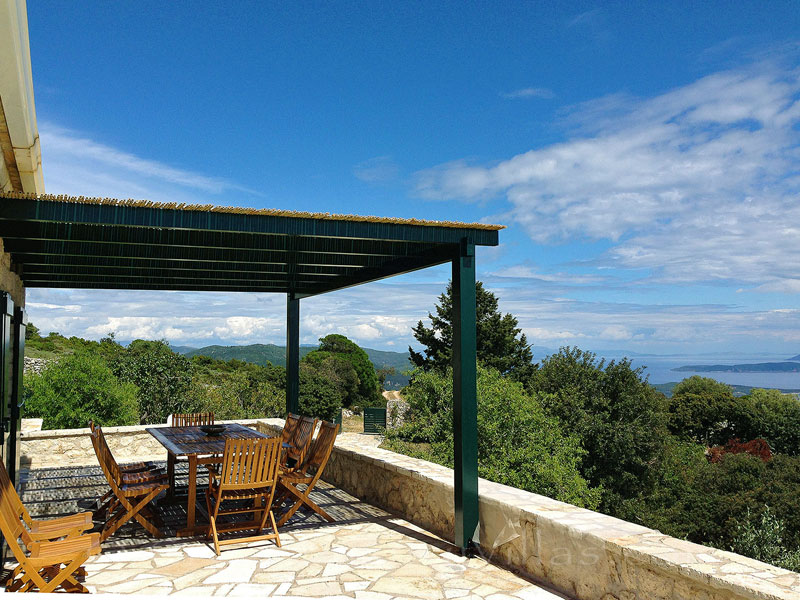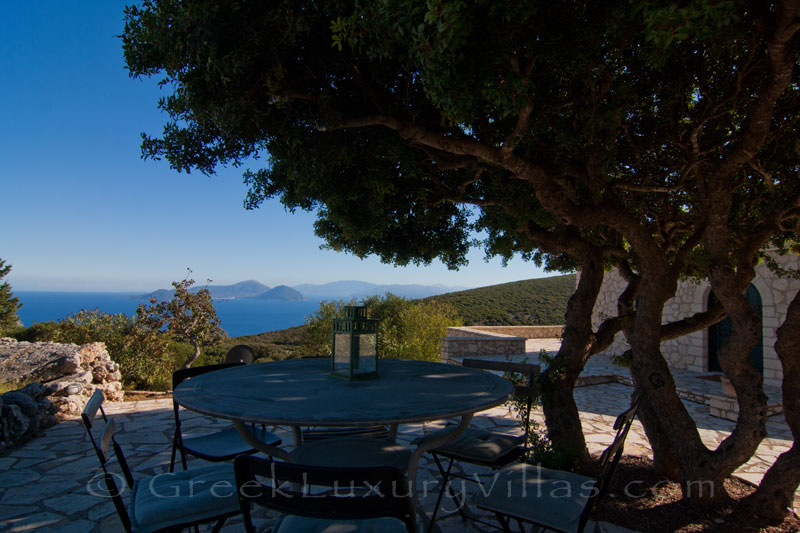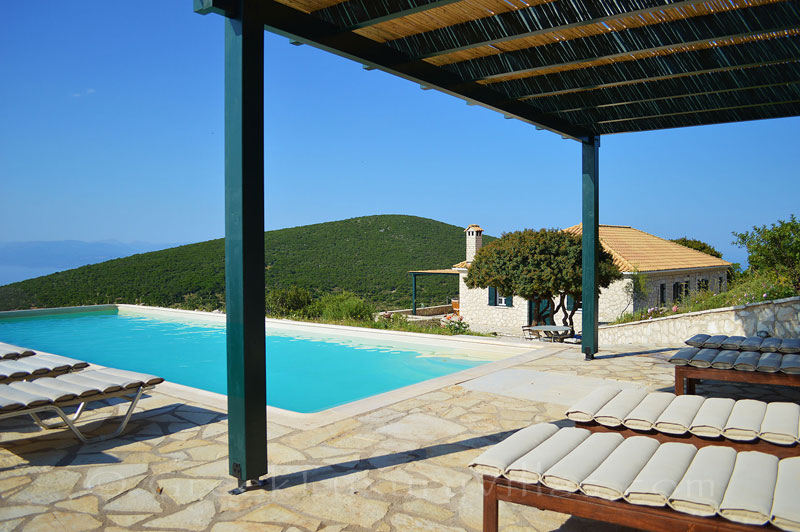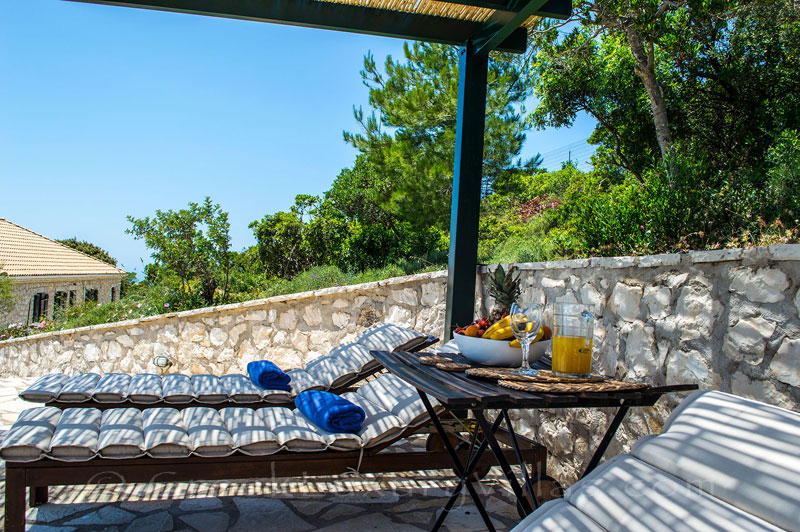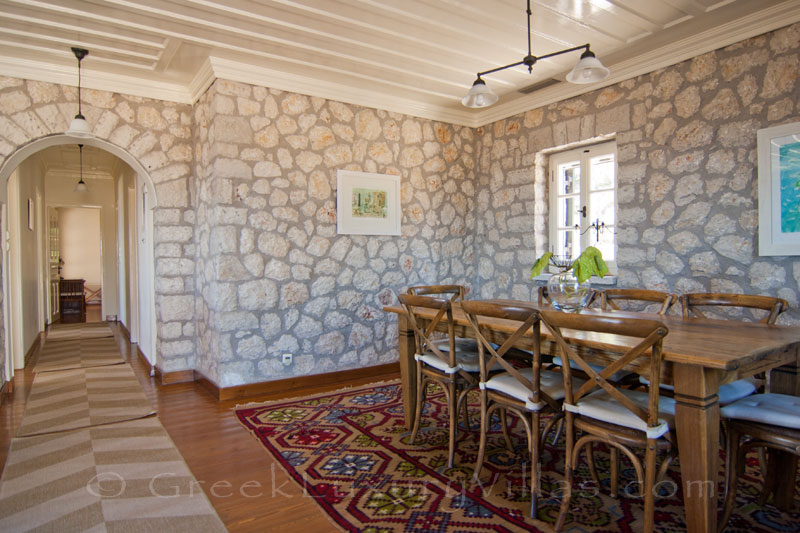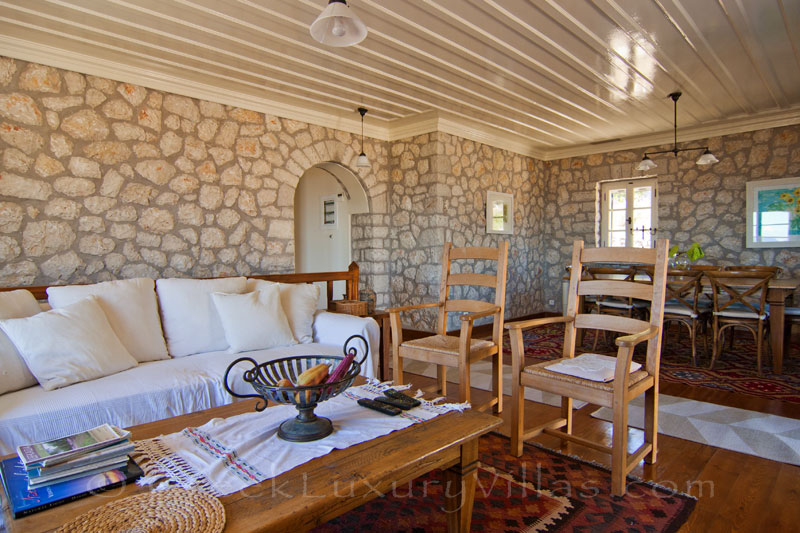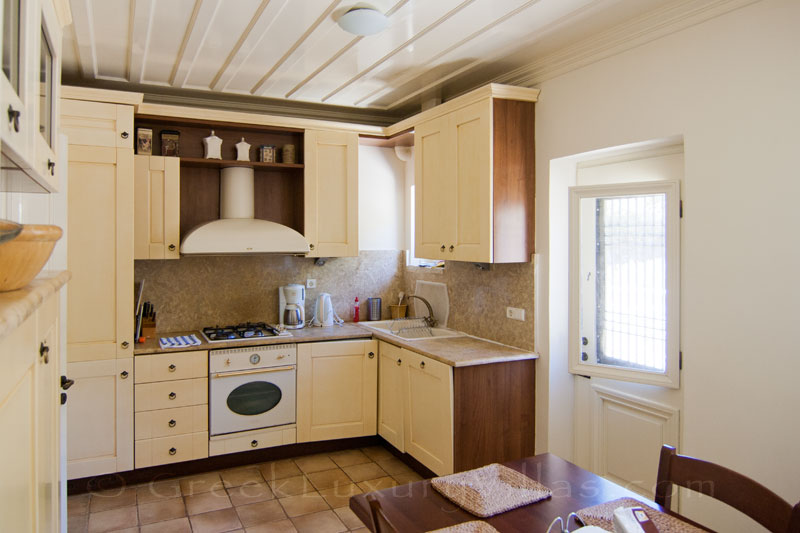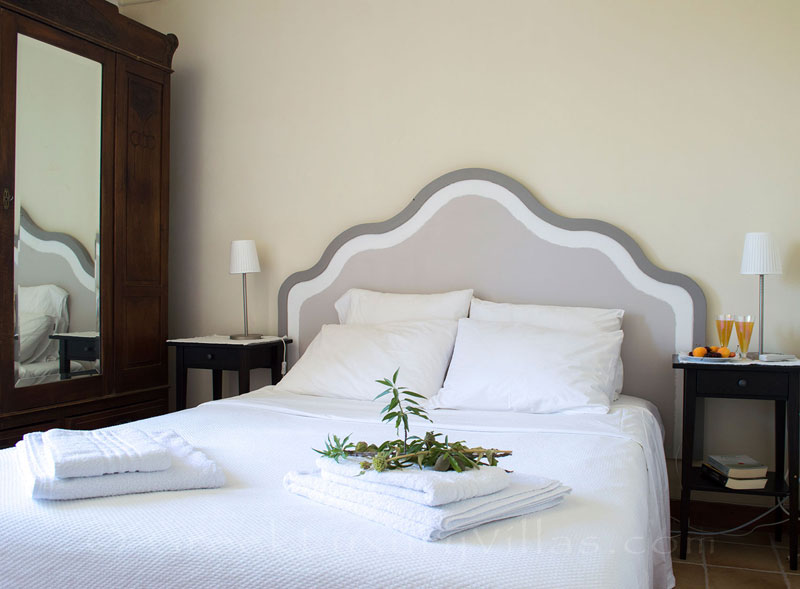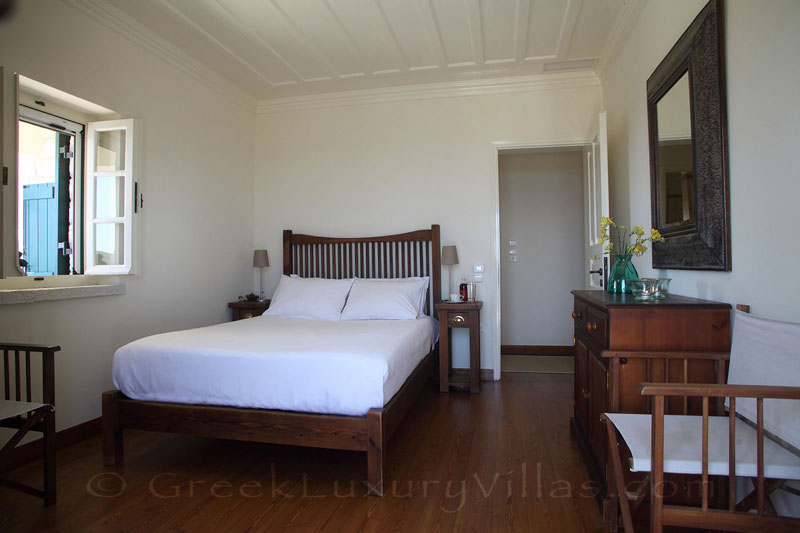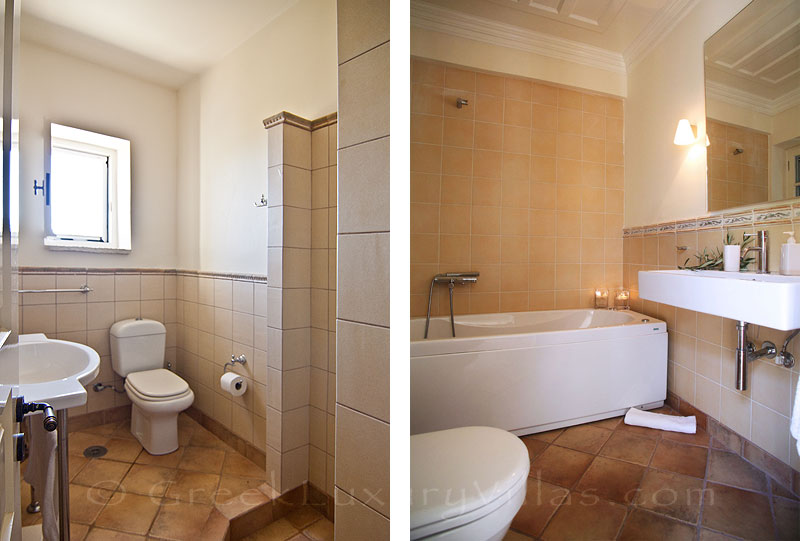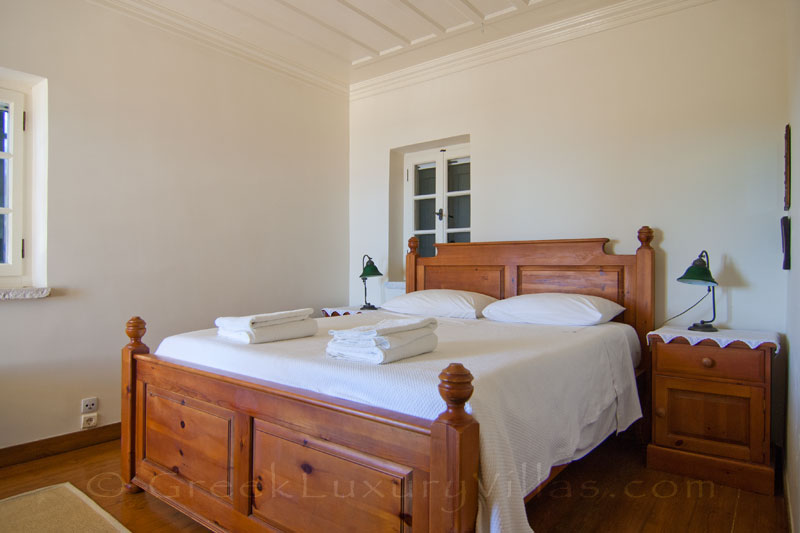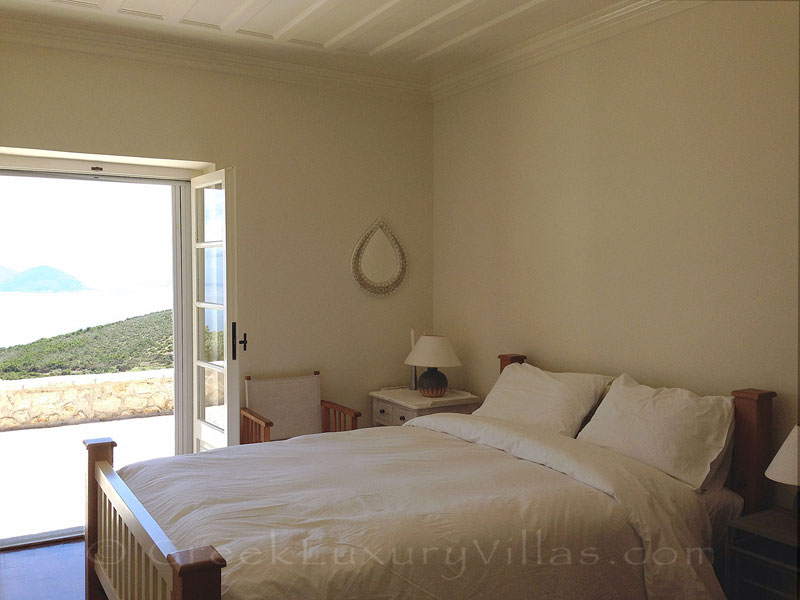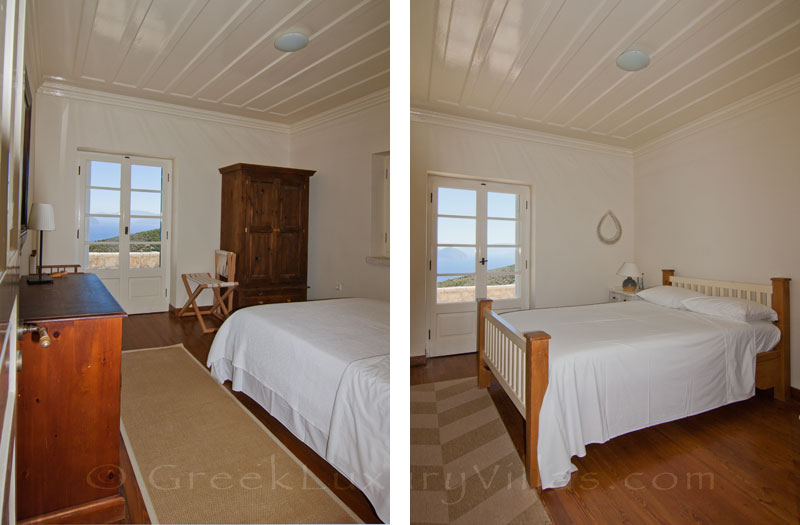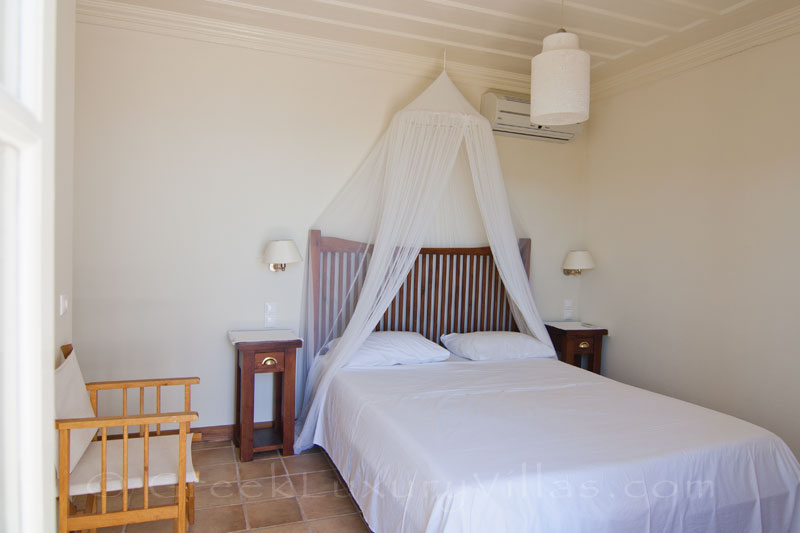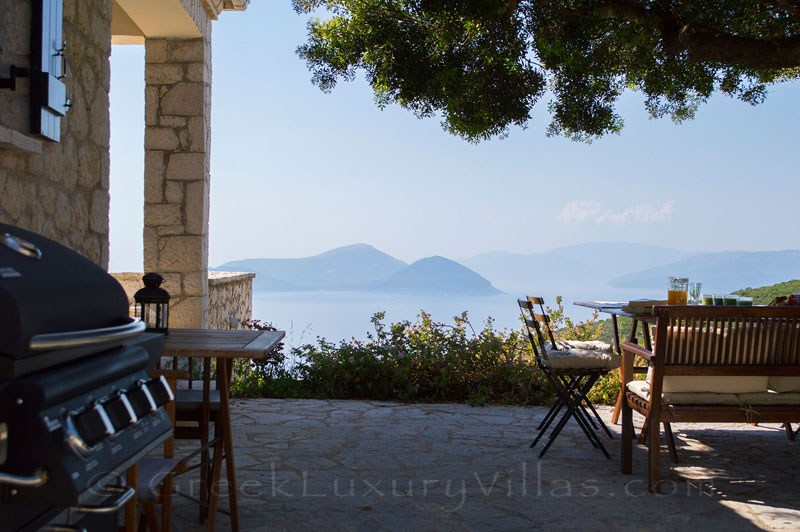 Villa Features
Private Pool, Indoor Jacuzzi, Outdoor Dining Area
Facilities
Washing Machine, Ironing Board, Sun Beds, Umbrellas, Parking on Property, Hair Dryer
Kitchen Facilities
Electric Stove, Oven, Microwave, Nespresso Machine, Filter Coffee Machine, Kettle, Toaster, Dishwasher, Food Processor (Multi), Blender, Juice Maker, Gas BBQ, Sandwich Maker
Multimedia Facilities
Sat-/Cable TV, DVD, CD-Player, WiFi-Internet
AirCon/Heating
AirCon in all rooms, Open Fireplace
Child Friendly
Baby Bed, High Chair, Shutters / Black-Out Curtains, Enclosed Property (wall, fence), Food Processor (Moulinette), Large Outdoor Space
Location
Included Services
Daily Maid Service, Change of Sheets 2 x weekly, Pool / Garden attendant, Welcome Basket
Services at Extra Charge
Change of Sheets daily, Private Chef, Grocery Service / Delivery, Breakfast Service (prepared), Concierge Service, Port/Airport Transfer, Guided Tours, Babysitter / Childcare, Laundry Service, Yacht/Boat Charter, Massage & Beauty Treatments, Weddings & Celebrations, Yoga Coach, Free diving/snorkeling with private U/W guide, RIB included, Scuba diving with private U/W guide/PADI, Villa Pre-Stocking