Prices for 2022 in Euro per day
26 April - 19 May
18 Sept. - 30 Oct.
210 €
17 June - 14 July
28 Aug. - 17 Sept.
400 €
Booking Conditions: To confirm the booking, a deposit of 30% is required. The remaining 70% is due 6 weeks before arrival.
Payment Method: Bank transfer in Euro.
Cancellation Policy: In case of cancellation, any payments made are forfeited.

Greek National Tourism Organization License:
0829K10TK7712001
A modern 1-bedroom cottage with a private pool
Personal Review
This modern cottage is the ideal choice for a couple that wishes to escape the stress of daily life or enjoy a honeymoon in total privacy.
Villa Pomegranate is one of 6 beautiful holiday homes spread over a large plot of land. The steep hillside location and the decades-old garden ensure a surprisingly high level of privacy with the higher located houses overlooking the roofs of the lower houses, but with no insight on their terraces of the houses below due to the densely vegetated garden. The wonderful scent of Mediterranean herbs and shrubs such as jasmine, roses, lavender and rosemary and many other plants hypnotize your senses throughout the property.
The houses were completely restored in early 2018. An entire wall was replaced by glass to bring the breathtaking view inside.
On the veranda with the private plunge pool (7 x 3 m), the stunning view of the endless blue of the Ionian Sea will take your breath away.
Another highlight of this villa is the breakfast service. In the afternoon you choose what you want from a list for breakfast and at what time. The landlords prepare this breakfast in the morning in their house with all fresh ingredients and deliver it to your front door. Freshly squeezed orange juice, smoothies, homemade bread, cereals, Greek yogurt, hearty omelette, Greek puff pastry specialties ... there is really no wish left unfulfilled and it is all delivered at the desired time to your doorstep. No one has to drive to the bakery, no one has to stand in the kitchen and everything is of the highest quality. Until breakfast comes, you can make your own coffee, an espresso machine with various capsules is available.
If unexpectedly you have a late night and you want to sleep in, you simply send the landlords an SMS. Also special requests, especially for toddlers and babies are of course possible. I have come to enjoy the breakfast service myself during my stay and find it a fantastic solution.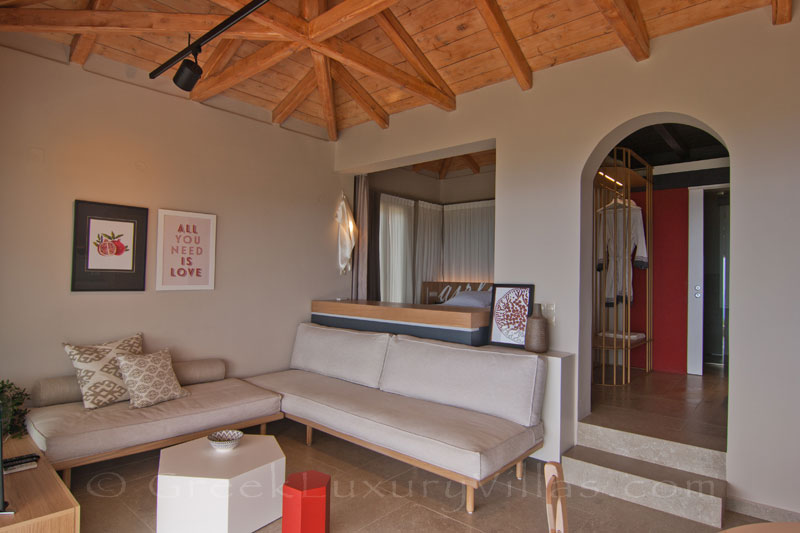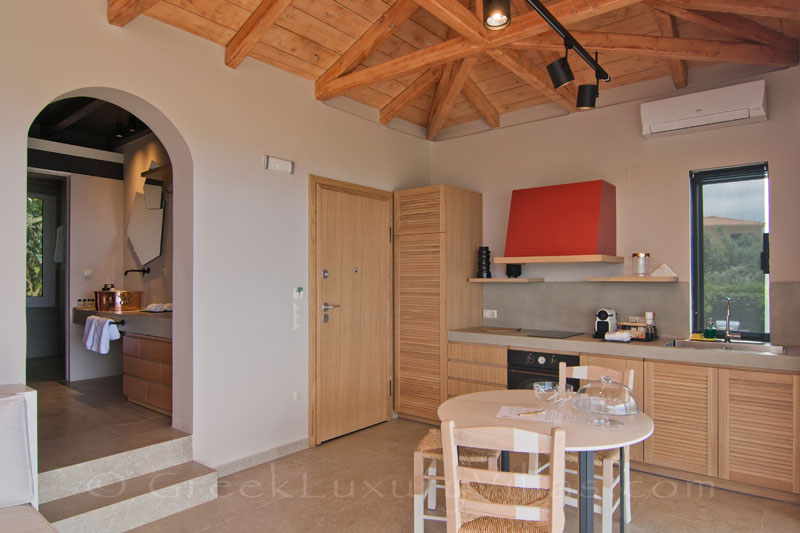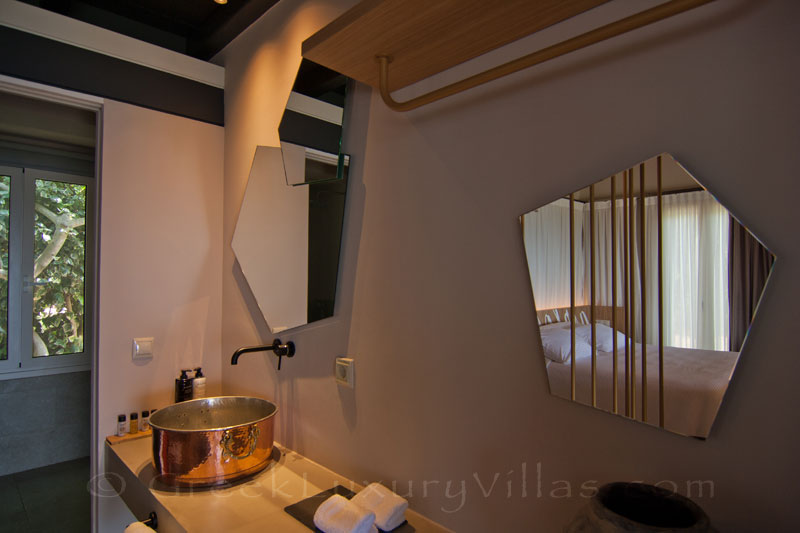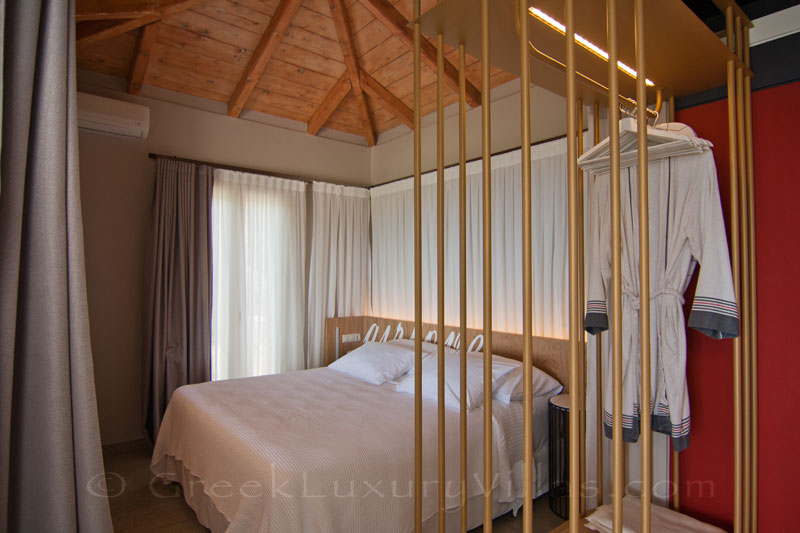 Breakfast Service
Homemade a la carte breakfast, freshly delivered to your door at the time of your choice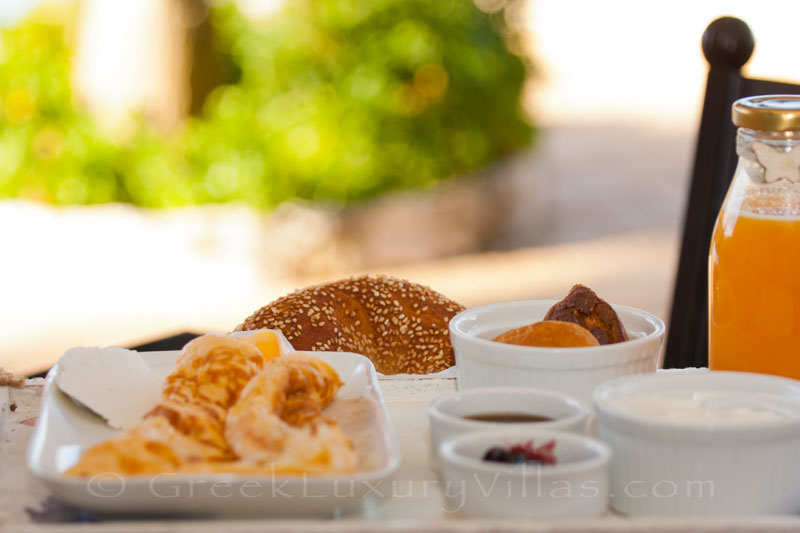 Villa Features
Private Pool, Outdoor Dining Area
Facilities
Washing Machine, Ironing Board, Sun Beds, Parking on Property, Hair Dryer
Kitchen Facilities
Electric Stove, Oven, Microwave, Nespresso Machine, Briki (Greek Coffee Maker), Dishwasher, Gas BBQ
Multimedia Facilities
Sat-/Cable TV, DVD, WiFi-Internet
AirCon/Heating
AirCon in all rooms
Child Friendly
Baby Bed, High Chair, Shutters / Black-Out Curtains
Pet Friendly
Pets welcome (with prior notice)
Location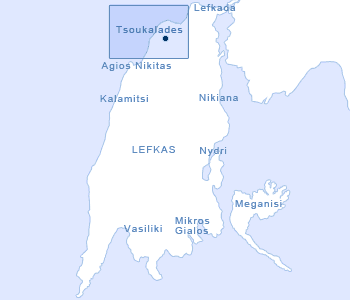 Included Services
Daily Maid Service, Change of Sheets 2 x weekly, Breakfast Service (prepared), Welcome Basket
Services at Extra Charge
Change of Sheets daily, Yacht/Boat Charter, Massage & Beauty Treatments
Location of Villa Pomegranate
Lefkas… An island of the Ionian Sea… love at first sight!
Wild beauty, unique white beaches, crystal blue waters, picturesque villages set on verdant hillsides, impressive sunsets. Easy and direct access is the island's main advantage, as a bridge connects it to mainland Greece.
Villa Pomegranate is located on one of the island's most pristine hillsides, just 700 metres from the village Tsoukalades. Ideal for calming and relaxing holidays close to nature, this villa is also near most amenities, such as super markets, traditional coffee shops and taverns. This idyllic location offers unsurpassed views of the Ionian Sea. The cosmopolitan town of Lefkada is also just a 10-minute car ride away to the north. In the south you will have the chance to explore the most beautiful beaches of the island, such as Kathisma and Pefkoulia, as well as the fishing village Agios Nikitas.
Beaches around Villa Pomegranate
Beaches of exquisite beauty stretch along the entire western coast of the island, boasting white sand, pebbles and crystal clear waters.
About 4km away from the villas you will find the beach Pefkoulia, where pine trees reach the sand and offer shade from the sun. Moreover, the cosmopolitan Kathisma beach is located 10 minutes away by car, perfect for socialising and having fun. The isolated beaches at Kalamitsi and Milos near Agios Nikitas offer a more tranquil and remote atmosphere, as well the unparalleled beauty of an exotic paradise.
Driving 30 minutes along the western coastline you will come across two of the best beaches of the Mediterranean, Egremni and Porto Katsiki.
Activities around Villa Pomegranate
Your stay at Villa Pomegranate is packed with activities that will make your holiday all the more enjoyable and special.
Take advantage of nature's purity and appeal by venturing into the wild and taking long walks while enjoying the incomparable views of the Ionian Sea.
As distances are short on the island, it will be easy for you to wander the cobblestone streets of mountain villages such as Karia and Eglouvi, but also the picturesque fishing villages such as Agios Nikitas and Sivota. Here you can try local delicacies, such as semolina pie and salami, enjoy delicious meze and taste the Eglouvi lentils, renowned throughout Europe. Leave the best for last, or in this case, the evening. A late-night stroll through the historic streets of Lefkas' old town will transport you to a by-gone era infused with romance and the allure of fairytales.
For those in search of adventure there are adrenaline-fuelled activities. On the Agios Giannis beach, where the wind is favourable, you can windsurf and kite surf. In addition you can admire the blue sea below while you paraglide overhead.
Hiking, mountain biking and horse riding activities will bring you closer to this unique natural world.
Lefkas' contemporary marina and the nearby wonderful islets are a sailing paradise and ideal places for scuba diving.
Your holidays can only be complete with a day trip by boat to the islands of Skorpios (owned by shipping tycoon Onassis), Meganissi, Kasto and Kalamos.
The only certainty on these holidays is that your days will be so filled with wonder and creativity that boredom is out of the question.
Getting to Villa Pomegranate
Getting to Lefkas is fairly easy and the island can be reached in many ways depending on your location.
For those living abroad, there are direct charter flights from the UK and most European cities to the Aktio/Preveza airport until October.
Moreover Lefkas is also accessible by car, taking the ferry from Venice or Ancona to Igoumenitsa, and then driving the remaining 120km by car.
There are internal flights from Corfu and Athens
And ferry access from Ithaka and Kefalonia.
The island is a 5-hour drive from Athens or Thessaloniki (on the Egnatia Odos Motorway).