Greek National Tourism Organization License:
1144K05AA0181300
High-end accommodation for the most discerning travelers
A Sanctuary of Serenity, Ultimate Luxury, Panoramic View
Normally you are not going to find hotels on Greek Luxury Villas, but this property is an exception. An exception because most visitors to Santorini will only stay a few days and an exception because of the uniqueness that this property boasts. Perched upon the cliff's edge, with uninterrupted views of the caldera, this property is perfectly located for exploring the island, especially the renowned picturesque village of Oia, which is just a short walk away.
In this tranquil environment, which reflects the natural beauty of the surroundings, you are offered elegance, comfort and intimacy with personalized service for hip and cool seasoned travelers as well as chic nomads that search for the essence of a place and appreciate life's finest details. An extraordinary destination and conscious lifestyle in harmony with nature and the world.
Minimalist Architecture & Design
The concept of simplicity transmits the ideas of freedom and essence of living, revealing the abstract quality of something that is invisible. Simplicity is not only aesthetic value, but it has a moral perception that looks into nature for the essence and reveals the inner qualities of the island.
With twenty-one unique suites and one villa, this unique spot provides the ultimate in Aegean luxury.  It is based upon and highly inspired by the island's traditional cave structures, with their ergonomic architecture, in harmony with nature, that befits island living, conjoined with the concept of zen philosophy. The considerations for 'essences' are light, form, detail, natural material, space, place and human condition, offering individual accommodations, each with their own charming personality and flair.
The renowned Perivolas Suite is sumptuous in form and elegantly minimalist, while the Lifestyle Studio has a refined minimalist nature and decor that evoke a sense of contemporary for chic nomads. The concept of romance is one that is taken to heart here. A night in this heaven will be unforgettable, where the stars, the sea and earth tones reflect from the Horizon and evoke a oneness with nature.
No matter which accommodation you choose, each privileged guest is treated to the finest hospitality in Santorini, including the chef's culinary creativity to respond to any particular dietary requirements with the preparation of a dedicated menu for the entire stay. Spend the afternoons lounging by the luminous swimming pool, or take advantage of the gym and spa to reinvigorate body and soul.
The main infinity pool (for all hotel guests)
The Perivolas Suite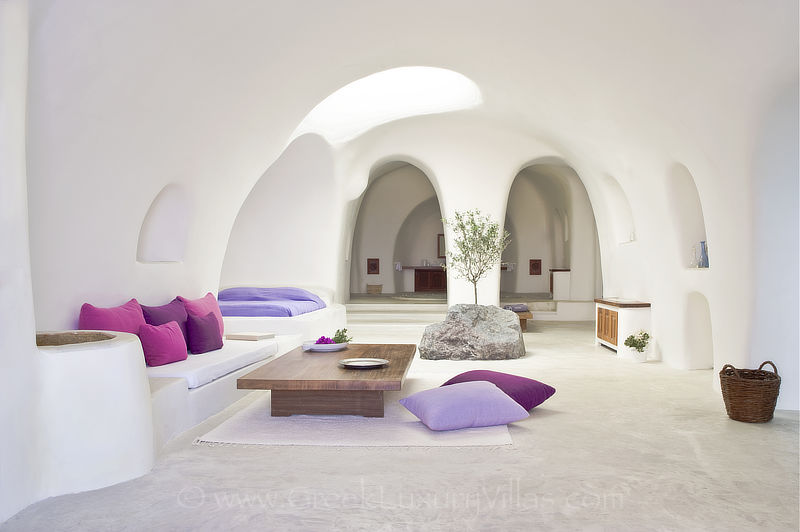 The Perivolas Luxury Suite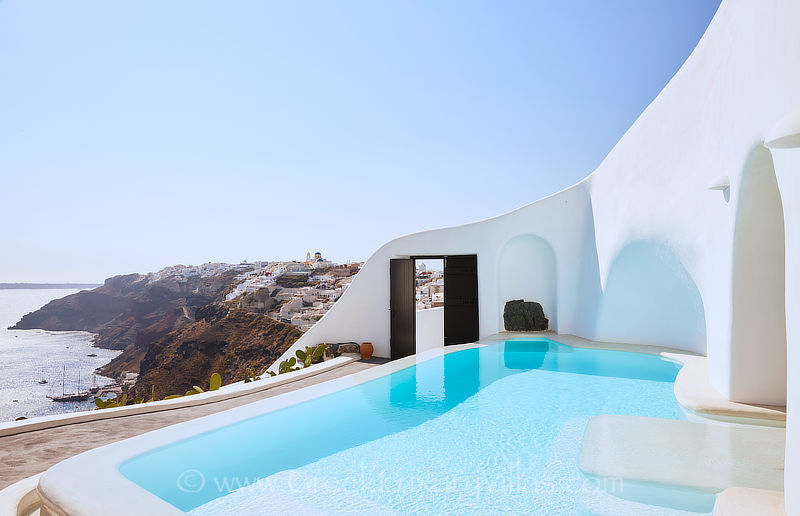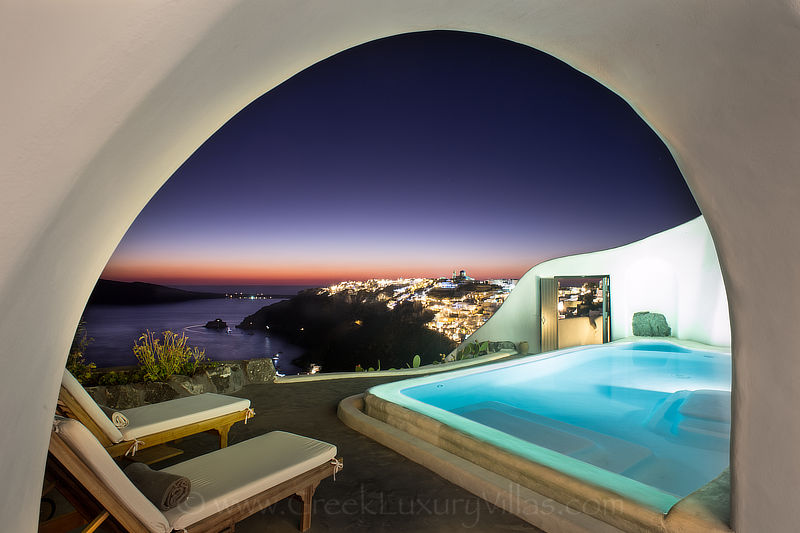 The Deluxe Suite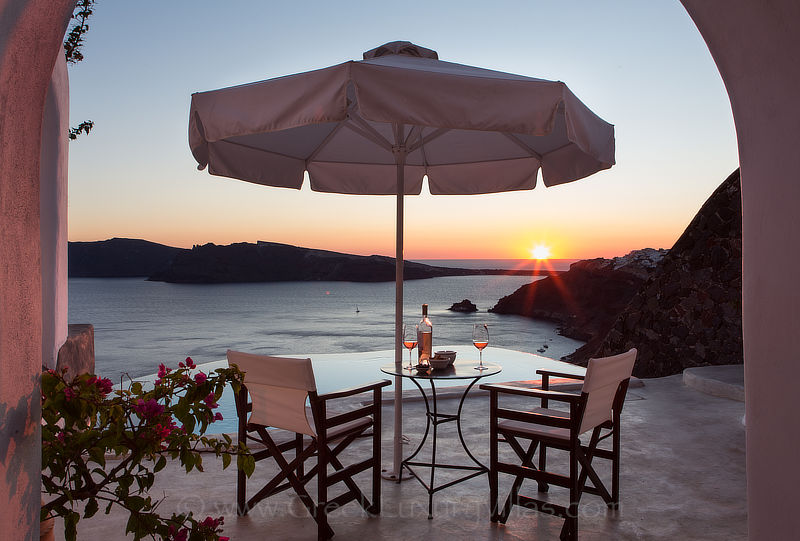 The New Perivolas Suite
The Superior Suite
The 2-bedroom Villa
Greek Cuisine
Breakfast is served!
In a converted wine cellar, the Perivolas Restaurant caters exclusively to hotel guests with great food, intuitive service and authentic Greek hospitality. Head chef, Theodoros Kakoulis, has created a menu that redefines traditional dishes with unexpected twists. The Greek passion for dining, cuisine and sharing a meal among friends is alive and well at Perivolas Restaurant. Guests will encounter fresh and local produce prepared with all the tastes and healthy benefits of the Mediterranean diet, and a modern twist on local dishes.
Indulge in the gastronomic delicacies while enjoying the uninterrupted views from our secluded terraces. Whether to enjoy a culinary journey or for the ultimate romantic gesture, to celebrate an anniversary or to toast to a new-found love, Perivolas offers the perfect setting to help bring dreams to life.
À la carte dinner with a view
Fitness & Yoga
For the more health conscious guests, Perivolas now offers a space guaranteed to make training while on holiday a pleasure. The newly launched 120 square meter gym that is exclusive to hotel guests hosts a workout studio with state-of-the-art equipment and ample space for independent yoga and Pilates sessions. The exterior of the Perivolas Gym, features a 25 metre lap pool, ideal for training.
Legend holds that Santorini is the site of Atlantis, the ancient city believed by many to rest deep below the dark blue waters of the Aegean, inundated by a volcanic eruption eons ago. With active volcanoes still lying dormant off the coast of Santorini, the island is a convergence point of the elements of yogic tradition: Fire, Air, Earth, Water, and Ether. Here, all those seeking this idyllic setting to complement a deeply transformational yoga experience are invited.
The gym and the lap pool
Wellness
Pamper your body, mind, and soul with ritualistic body treatments and massages, yoga classes and fitness programs. In the Wellness Area, guests will have the bespoke opportunity to relax and rejuvenate in the Sauna, Steam Room, Massage and Beauty Treatment room, as well as the Outdoor Jacuzzi. Pamper your body, mind, and soul with our Spa's Hippocratean body treatments and massages and nature walks.
The entrance to the spa area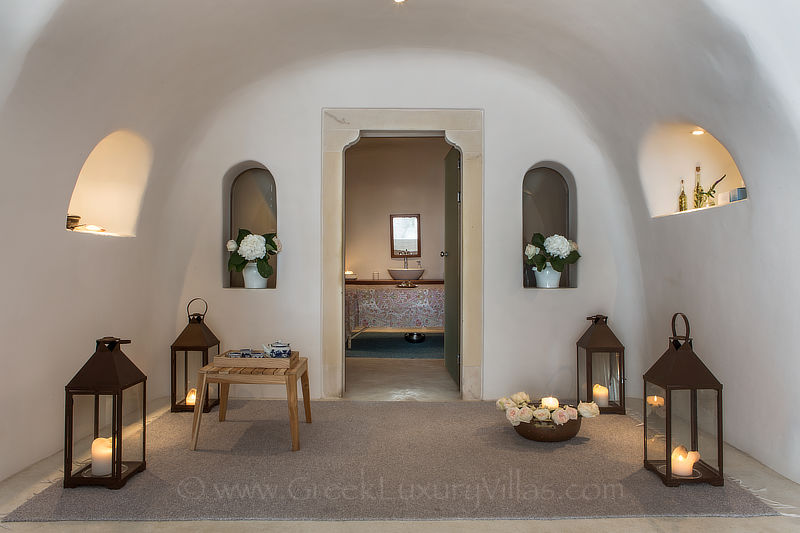 Villa Features
Private Pool, Shared Pool, Outdoor Jacuzzi, Sauna, Indoor Gym, Outdoor Dining Area
Facilities
Sun Beds, Umbrellas, Parking on Property, Hair Dryer, Bathrobes
AirCon/Heating
AirCon in all rooms
Included Services
Daily Maid Service, Change of Sheets daily, Breakfast Service (prepared), Concierge Service, Pool / Garden attendant, Port/Airport Transfer, Welcome Basket, Meet & Assist at the Airport/Port, 24/7 Reception/Standby
Services at Extra Charge
Guided Tours, Welcome Dinner, Laundry Service, Driver, Yacht/Boat Charter, Massage & Beauty Treatments, Personal Fitness Trainer, Yoga Coach, Tennis Coach, Scuba diving with private U/W guide/PADI, Villa Pre-Stocking
Location
Official Rates for 2021 in Euro per day
Please ask us about special offers!
Low Season
15 - 31 May
1-31- Oct.
High Season
1 June - 30 Sept.
Lifestyle Studio
575 €
675 €
Superior Suite
900 €
1.050 €
Deluxe Suite with Jacuzzi
1.200 €
1.650 €
Deluxe Suite with Pool
1.500 €
2.000 €
New Perivolas Suite
2.000 €
2.600 €
Perivolas Luxury Suite
2.100 €
2.750 €
Perivolas Suite
2.250 €
3.000 €
Perivolas Villa
4.600 €
5.800 €
The above rates are quoted in euro, per night and include:
Daily Perivolas Breakfast
Welcome carafe of dessert wine
Welcome champagne cocktail
Use of all hotel facilities
Daily maid service
Transfers to / from the hotel to airport or port
VAT
The Deluxe Suites also include a complimentary bottle of Prosecco.
The Perivolas Suites and Perivolas Villa also include a complimentary bottle of Champagne.
Minimum stay is 2 nights.
Bookings with children under the age of 16 are not accepted, except for the Perivolas Villa.
All Suites and Studios are designed for 2 guests. Additional guests are subject to a fee of 200 € per person, per day, subject to availability and room allocation.
The Perivolas Villa can accommodate 4-6 people at no extra charge.
Check in time is at 15:00 and check out time is at 11:00
All deposits are fully refundable, provided that any cancellations are made at least 7days prior to the confirmed date of arrival.
Cancellations made within 7 days of the confirmed arrival date, early departures, or no-show reservations will be subject to a cancellation fee of 100% of the total booking.
Special offers are available for a limited time, through our loyalty club. All promotions are subject to the terms and conditions as described online.