Prices for 2022 in Euro per week
1 January - 15 April
14.000 €
16 April - 29 April
17.500 €
30 April - 17 June
14.000 €
18 June - 15 July
17.500 €
16 July - 19 August
21.000 €
20 August - 9 Sept.
17.500 €
10 Sept. - 31 Dec.
14.000 €
The rates include the service of a private chef and his assistant for preparing and serving breakfast and one meal, the shopping of the groceries (groceries costs not included) and the daily housekeeping.
Booking Conditions: To confirm the booking, a deposit of 30% is required. The remaining 70% is due 8 weeks before arrival.
Damage Deposit: A damage deposit of 2000 Euro is to be paid with the second payment and will be refunded upon departure unless a damage is claimed by the villa management.
Payment Method: Bank transfer in Euro or Credit Card.
Cancellation Policy: For cancellations received more than 6 months prior to arrival date, the booking deposit is refunded.
For cancellations received 8 weeks to 6 months prior to arrival date, the booking deposit (30%) is retained as cancellation penalty.
For cancellations received 8 weeks or less prior to arrival date, as well as no-shows, the total booking value is retained as cancellation penalty.

The damage deposit will be refunded in full in either case.

Greek National Tourism Organization License:
1061017
Luxury Villa with Panoramic Sea View on Kea
This property is a brand new modern villa for the Aegean fanatics with ultra modern Cycladic aesthetics, natural materials and a rare to find set of amenities, ideal for families or a big group of friends.

The residence, located at a secluded area on top of a hill, in a plot of 10,000m2, exploits to the utmost the unique natural features of the protected landscape and offers its guests hard to find privacy and relaxing vistas.

The white washed facades and the local stone walls, coupled with the natural oak tree surroundings and the stunning sea view, create the perfect setting for a peaceful stay and a memorable vacation.

Split in two levels, this 500 m2 mega villa can accommodate up to 12 guests in various modern accommodation options; a perfect villa for a large group or a family vacation. Its outdoor dinning area and the infinity pool, are a rather realistic extension of the bright blue waters that dominate the views.

This luxury villa was designed to make you have the vacation of a lifetime. The management wants you to feel that anything is possible, and the staff will do their best to make it happen. It is your ticket to exclusivity, privacy and bespoke services from the moment you step on the island until your very last day of vacation.

The aim is to surpass your expectations in every way!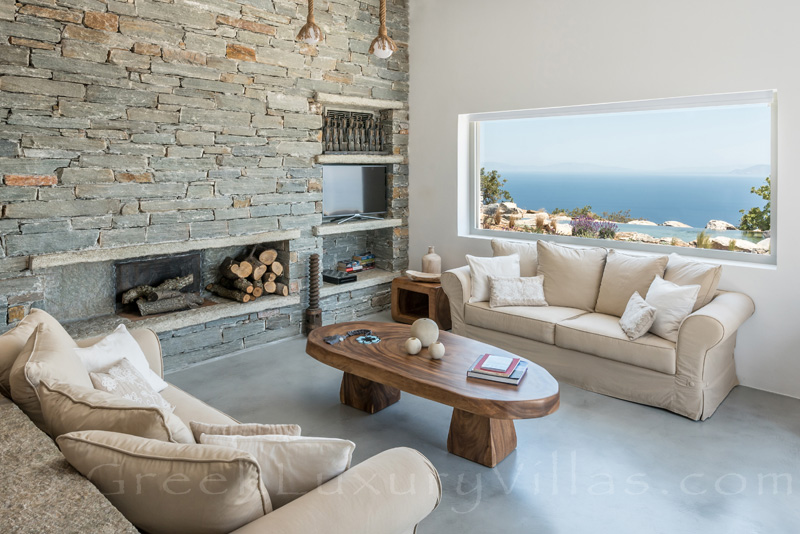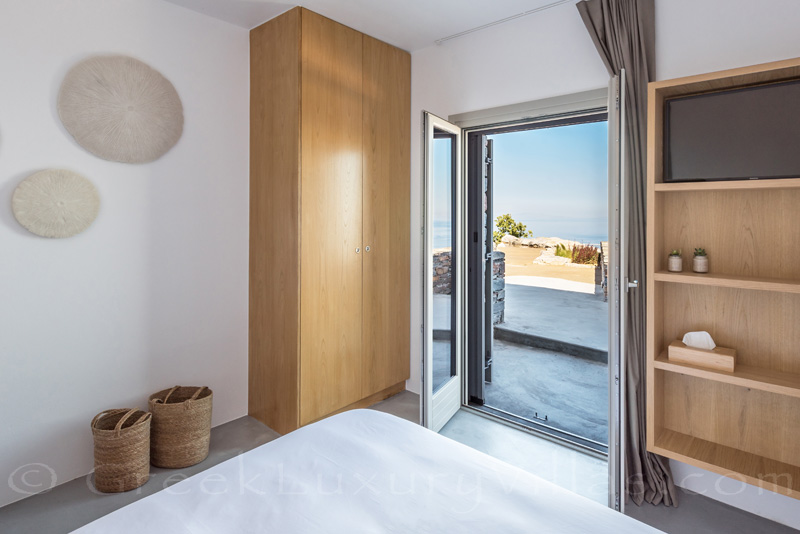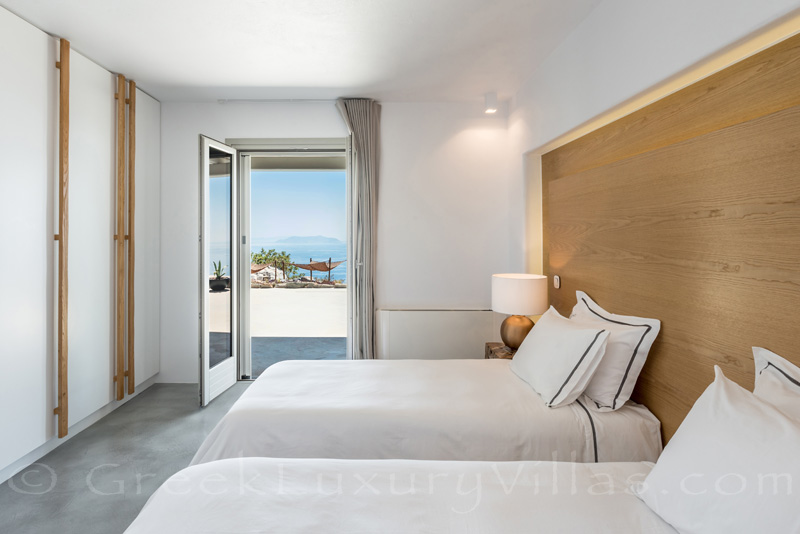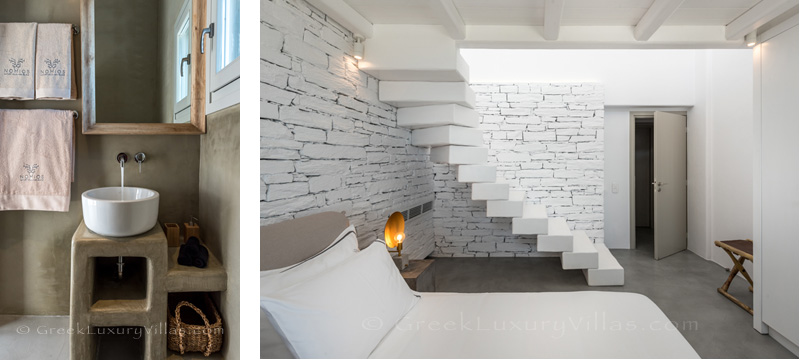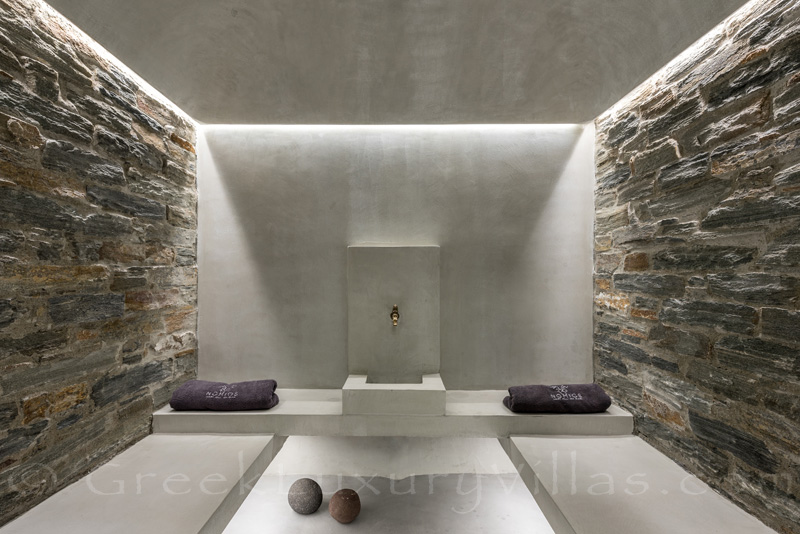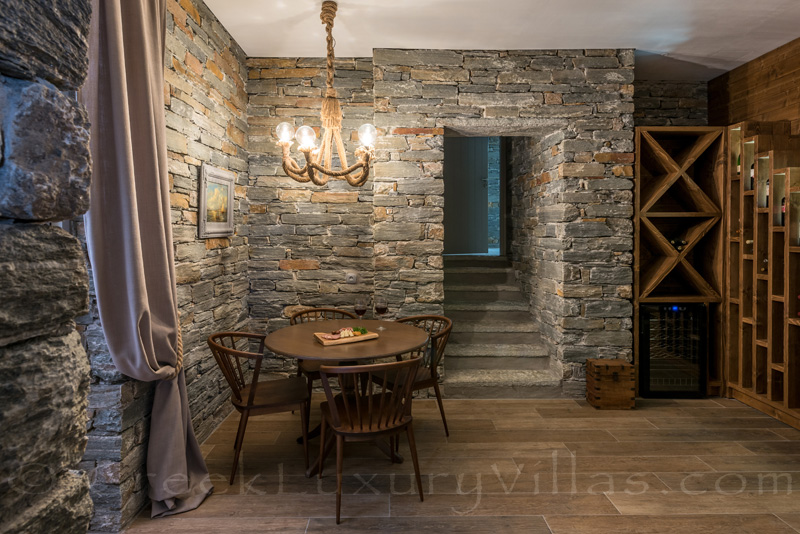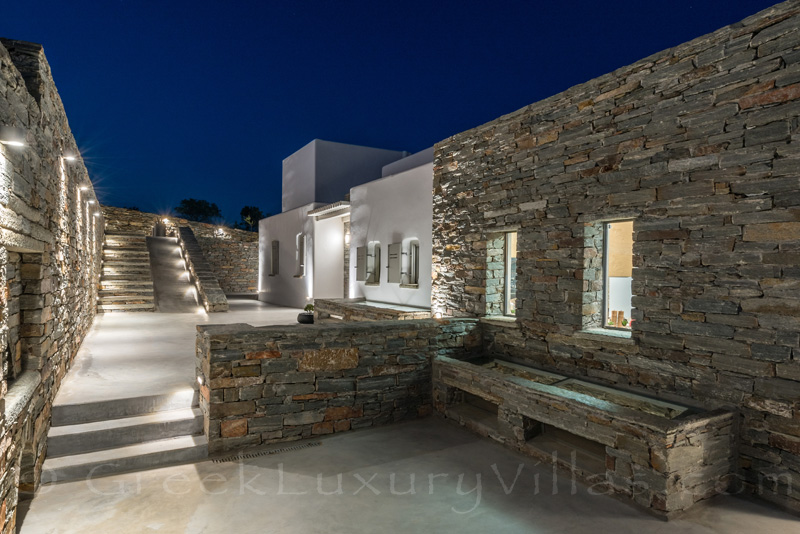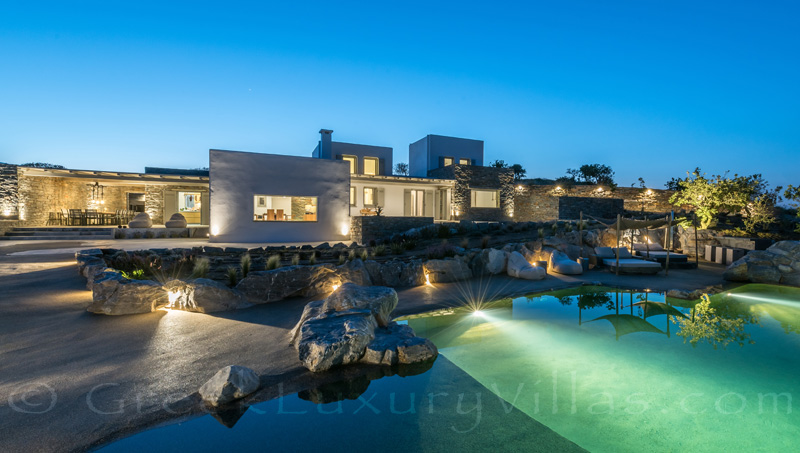 Villa Features
Private Pool, Table Tennis, Hammam (Steam Bath), Indoor Gym, BBQ Area, Outdoor Dining Area, Tennis Court, Basketball Court, Helipad
Facilities
Washing Machine, Tumble Dryer, Ironing Board, Security / Alarm, Sun Beds, Umbrellas, Beach Towels, Parking on Property, Hair Dryer, Bathrobes
Kitchen Facilities
Electric Stove, Oven, Microwave, Nespresso Machine, Filter Coffee Machine, Briki (Greek Coffee Maker), Toaster, Dishwasher, Food Processor (Multi), Blender, Pizza Oven
Multimedia Facilities
TV, Sat-/Cable TV, HiFi-Stereo, WiFi-Internet, PC/Laptop, Playstation / X-Box, Netflix, Cinema Projector, Printer, Indoor/Outdoor Sound System
AirCon/Heating
AirCon in all rooms, Central Heating, Closed Fireplace
Child Friendly
Bunk Bed, High Chair, Shutters / Black-Out Curtains, Toys for Indoor Use, Enclosed Property (wall, fence), Playground, Food Processor (Moulinette), Non-breakable Plates/Glases, Large Outdoor Space
Disabled Friendly
At least 1 bedroom, bathroom, kitchen and living room directly accessible
Location
Included Services
Daily Maid Service, Change of Sheets 3 x weekly, Private Chef, Grocery Service / Delivery, Breakfast Service (prepared), Concierge Service, Pool / Garden attendant, Welcome Basket, Laundry Service, Meet & Assist at the Airport/Port, Vegetable Garden
Services at Extra Charge
Port/Airport Transfer, Guided Tours, Babysitter / Childcare, Driver, Yacht/Boat Charter, Massage & Beauty Treatments, Weddings & Celebrations, Personal Fitness Trainer, Yoga Coach, Tennis Coach, Free diving/snorkeling with private U/W guide, RIB included, Scuba diving with private U/W guide/PADI